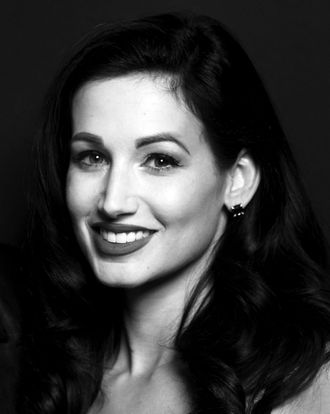 Photo: Michael Bezjian/WireImage/Getty Images
Sex therapist and author Dr. Amie Harwick, 38, died on February 15 after police found her gravely injured outside her Hollywood Hills home. On February 18, the Los Angeles County coroner's office released a report declaring the cause of death a homicide; they also said she had fallen from a third-story balcony. The news made headlines not only because Harwick used to date Price Is Right host Drew Carey but because of tragic, frustrating details surrounding her murder: Harwick had reportedly filed two restraining orders against ex-boyfriend Gareth Pursehouse, 41, the most recent of which had only just expired. Friends report that a chance encounter between Pursehouse and Harwick at a party in January may have set the violence against Harwick in motion. And now court documents unearthed from the restraining order filed by Harwick show that she suffered horrific abuse at the hands of Pursehouse.
Here's everything we know about what happened to Amie Harwick.
Amie Harwick was a former model and licensed therapist
According to her website, Harwick, a former Playboy model, held a B.A. in psychology from California Polytechnic University and a M.F.A. in clinical psychology (with an emphasis on marriage and family therapy) from Pepperdine University in Malibu. She worked with clients who suffered from a range of conditions, including "anxiety, depression, sexually exploited teenagers, juvenile sex offenders, children with trauma, court-mandated adults, divorce, sexual identity issues, chronic pain, sex addiction, bipolar disorder, displaced adolescents, and domestic violence," it reads. She also wrote a book called The New Sex Bible for Women in 2014 and appeared in the 2015 documentary Addicted to Sexting.
She was once engaged to Drew Carey
Harwick's engagement to Price Is Right host and television sitcom star Drew Carey was her most high-profile relationship, albeit a brief one. The two met in Las Vegas in 2017 and were engaged a few months later but called it off in 2018. The split was reported as amicable. When the news broke on Monday of Harwick's murder, The Price Is Right announced it was suspending production, and Carey shared a video of himself and Harwick on Twitter. In a statement to the Los Angeles Times, he said: "Amie and I had a love that people are lucky to have once in a lifetime. She was a positive force in the world, a tireless and unapologetic champion for women, and passionate about her work as a therapist."
Harwick had filed restraining orders against ex-boyfriend Gareth Pursehouse — twice
The L.A. Times reports that Harwick first requested a temporary restraining order against Pursehouse, a software developer and photographer, in 2011, but the order was dismissed when she apparently did not attend a follow-up hearing. Nine months later, Harwick was granted another temporary restraining order, which was extended in April 2012. TMZ, which first reported Hardwick's death, claims that police confirmed that the latest restraining order had expired just weeks ago.
Pursehouse and Harwick allegedly dated several years ago and lived together for a short time before the relationship deteriorated. A friend of Harwick's told KTLA that Pursehouse "was a constant thing that she talked about, that she was afraid of this particular guy, and it was always something that kind of followed her. It scared her enough to tell friends that, gee, I think I should get some mace or pepper spray."
Court documents show Harwick accused Pursehouse of choking her, beating her, and breaking into her home
The New York Daily News obtained court documents detailing Harwick's 2011 and 2012 restraining orders, in which she alleged that there were "multiple arguments in which Gareth Pursehouse choked me, suffocated me, pushed me against walls, kicked me, dropped me to the ground with force, force-restrained me, slammed my head into the ground, and punched me with a closed fist." Harwick filed the first order after she claimed he pushed her from a car. She wrote that he broke into her apartment multiple times, including one occasion in which he "smashed ten picture frames on [her] door" and told her, "Things will get worse." The day after, Pursehouse reportedly returned to apologize, taping about four dozen roses to the entrance of Harwick's home.
Friends say Harwick had recently run into Pursehouse, and he "went ballistic"
The L.A. Times reports that Hernando Chaves, a friend of Harwick's and a fellow sex therapist, claims Harwick had run into Pursehouse at an event in January. "It was the absolute worst possible luck," he said, and the meeting with Pursehouse seemed to "reignite his obsessive preoccupation with her." Another friend, Vera Duffy, said Harwick had recounted that when Pursehouse saw her, he "just went ballistic. He lost it. He made a scene."
Jasmin St. Clair, an adult film actress and friend of Harwick's, told Page Six that the event was the XBiz adult film awards held in Los Angeles, hosted by Stormy Daniels, where Pursehouse was working as a photographer. "Gareth knew Amie was going to be at XBiz," St. Clair said. "He stalked her there and went batshit crazy… his behavior was abusive and threatening. He was yelling and screaming. Amie told me after the incident that she was scared he would show up at her home. She went to the police, but they did not take it seriously. He was really obsessive over her, controlling." Authorities have not commented on whether they were contacted by Harwick.
Police arrested Pursehouse on suspicion of murder
Authorities say that police went to Harwick's home in the early hours of Saturday morning in response to calls about a woman screaming. They allegedly found her roommate outside, who said they had jumped a wall to escape the home and call for help because Harwick was being assaulted inside. Officers then found Harwick lying on the ground under her third-story balcony with blunt injuries consistent with a fall; she died later at a hospital. Pursehouse was initially arrested on suspicion of murder on February 18 before being released on a $2 million bond. He was re-arrested and officially charged with murder a few days later as well as a count of first-degree residential burglary, with the special circumstance of lying wait, making him eligible for the death penalty.
On April 16, Pursehouse pleaded not guilty to the charges, and was ordered to returned to court on June 24.
This post has been updated with additional information.