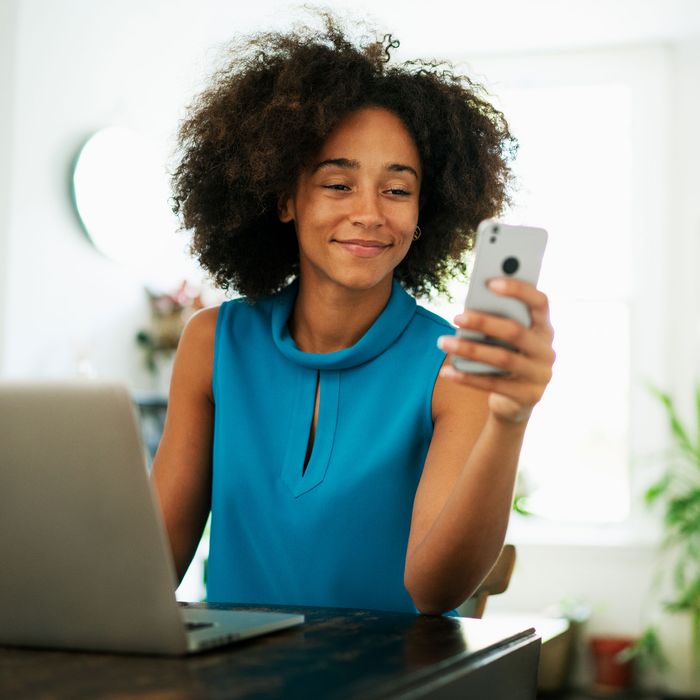 Photo: Tim Robberts/Getty Images
Before the pandemic, Georgia Louise could sometimes be found on Jennifer Aniston's plane, giving her a facial. Today, she's in her kitchen, assessing my cheeks via iPhone. "They look a bit … gray," she says skeptically. Skin-care experts refer to this kind of socially distanced facial as a "virtual skin session" — a new form of tele-beauty in which an aesthetician examines your complexion through HD Zoom or an iPhone's retina display. (It's only apropos, since that's how most people see us nowadays).
Unable to treat their famous clients, the best facialists around the world are now offering virtual skin sessions. They might not be able to touch you, but they can show you how to touch yourself. In 30 minutes, Meghan Markle's facialist Nicola Joss can teach you how to give yourself a proper face massage. Sting's favorite facialist, Joanna Czech, can coach you through her signature "face slap," a move she does on Philip Lim to boost circulation to the skin. Celebrity skin doctor Dr. Barbara Sturm can counsel you on what to do if your "blood cream" runs out. And Renee Rouleau is available to talk you out of skin-picking (she even has a toy devised to take your mind off it). In this age of skin care as a personal project, it feels almost normal that a professional skin coach is only a call away.
Both Louise and Rouleau tell me that since social distancing began in mid-March, they've been busier than ever. Rouleau has actually been offering virtual consultations called My Skin Prescription since 2012, but now her aestheticians are working mornings, weekends, and nights (and being fairly compensated for the overtime) to satisfy the new demand. Rouleau's sessions roughly follow a six-step framework. Among other things, she tests people on their "sunscreen IQ," has them walk through their current routine and suggests areas for improvement, and assesses their skin type. You might have thought there were only three types of skin: oily, normal, and combination. But Rouleau believes there are nine designations, with categories like Dry/Tired/Aging (that's one type, not three.)
On a sunny morning in isolation, my iPhone lights up with Rouleau's clear, bright face, which is surrounded by pink braids. She calls me from her porch in Austin and says, "Tell me what's going on with your skin." Even though I'm a little skeptical, I tell her about the strange, scaly patch that I found on my neck a few days ago. I've been putting retinoid on it and trying to exfoliate it away, without any success.
When she says "Show me," I crane my neck and hope that it doesn't matter that I skipped the last two iPhone updates. She tells me that the skin on our neck is actually more sensitive and hypothesizes that since the scaliness only occurs in one patch, I may have applied an acid to my face and then touched my neck. Her suggestion is to moisturize it and leave it alone for a few days. I do, and she's right. It fades completely.
In my second skin session of the week, I have a Zoom encounter with Louise, Jennifer Anniston's facialist, who has a two-year waiting list in normal times. She immediately asks that I try to find an area with better light. After seven weeks in isolation, the only well-let areas of my apartment are filled with clutter, but I do my best. When I ask her what she thinks of my skin, she says, in her a slight British accent, that it's looking bouncy with plumpness, but also a bit dry and puffy (and this is with the beauty filter turned on.)
"You can see when skin looks dry and dehydrated?" I ask.
"Well, it looks a bit gray," she says. "But could also be the light."
I can definitely see that my cheeks look a little more chipmunk-y than usual, probably from snacking while watching Terrace House late the night before. The remedy, Louise says, is to do some lymphatic drainage, ideally morning and night, but for the next ten minutes, we do one together. First, we have to "activate" the system, so we find a soft point about a half inch under my clavicle. She tells me to "pump" and press gently there with the sides of my ring and index finger about 20 times. "It probably feels a little tender," she says. Then we do the same motion across my face, moving from behind the earlobe to beside the nose to the temple to the chin.
Next, she instructs me to take a generous amount of face oil, apply it to my face, and "drain everything down." In unison, we hover our hands in prayer position at heart center, moving to the third eye, and then slide them down the sides of the face, down to the jawline and into the clavicle. "Push!" she says with vigor, like I am in a skin-care lamaze class. We repeat this move five times. My favorite part is when she tells me to take two cold spoons, place the round section against my cheeks, and drag them out. It feels satisfying, like I am a summertime worker at a scoop shop, trying to work through a vat of hard ice cream.
It's odd, but at the end, I feel more alert and less sluggish. My face, especially along my jawline, feels less tense and lighter. It's definitely not gray — more like slightly pink, in a pretty way, like I'm in an ad for an athleisure brand. It also looks slightly more lifted and more defined. I don't have anywhere to be, I don't have anyone to see me, but I still like that my skin looks undeniably better.
More importantly, the process felt good. Maybe I really did relieve pressure, or maybe it was the simple act of touching my face for five times as long as I normally would. Put me in, skin coaches, I'm ready to play.