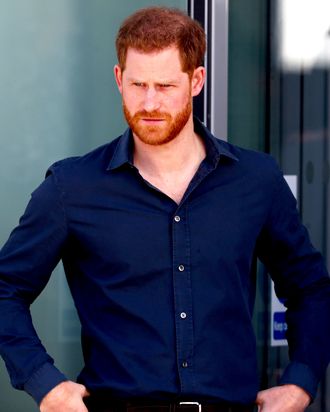 Harry, just Harry.
Photo: Simon Dawson-WPA Pool/Getty Images
Prince Harry would like to be known as Harry, just Harry, now that he has officially stepped back from life as a senior royal. Which is perfectly fine and acceptable in most casual situations, if perhaps also a little confusing, because there are lots of Harrys out there and what if we were talking about this one? How do we specify which Harry we mean? What full, official name would he use if, for example, he were filling out registration forms for his sustainable-travel initiative?
Well! Conveniently enough, Harry appears to have done just that for Travalyst, a service that will help people book more environmentally friendly trips. The Daily Mail reports that, on the registration documents, he opted not to use the surname his grandmother created for her descendants, Mountbatten-Windsor. Instead, he went with Prince Henry Charles Albert David Duke of Sussex — a mouthful, but very distinctive nonetheless.
Of course, as part of his deal with Queen Elizabeth II, Harry had to relinquish his HRH ("His Royal Highness") title and abandon any mention of the word "royal" in his personal brand, which is why Harry and Meghan's forthcoming nonprofit endeavor will be called Archewell and not Sussex Royal. Still, Harry's technical last name remains Mountbatten-Windsor.
As Cosmopolitan points out, though, Harry's decision to go with "Prince Henry Charles Albert David Duke of Sussex" does not necessarily point to an attempt to distance himself from the British monarchy. It may simply be that his moniker of choice, which is in fact his full name, was long enough without the addition of a hyphenated surname. Anyway, the important thing is that we now we have one long-winded way of differentiating this Harry from his other Harry peers. Phew.