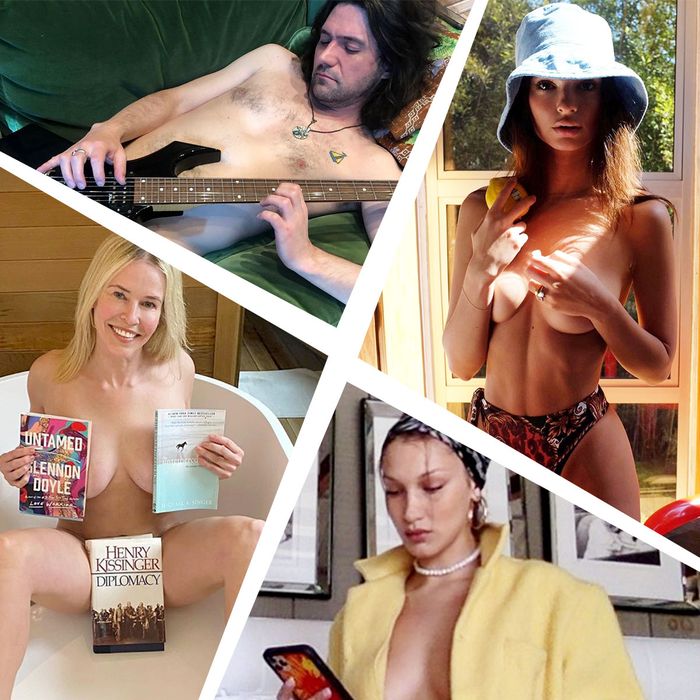 Photo: Clockwise from top: @brighteyesofficial/Instagram, @emrata/Instagram, @bellahadid/Instagram, @chelseahandler/Instagram
During this phase of enforced self-isolation, it's been hard to find joy in the usual Hollywood gossip and distractions. Aside from Ben Affleck and Ana de Armas going on staged walks, the celebrities aren't doing much of anything public at all — no red carpets or launch parties, no dinners or shopping trips to Beverly Hills. But mercifully, a growing number of famous people seem to have intuited our need for stimulation, and have taken matters quite literally into their own hands — by getting naked on Instagram.
In simpler times, Instagram was made for pictures of brunches, extracurricular travel, braggy engagement photos, and that one sunset everyone felt compelled to photograph. Back then, I would never have considered Emily Ratajkowski in the cultural vanguard, but COVID-19 has brought things into sharper focus. For years, Ratajkowski has posted several fully-unclothed-but-artfully-censored photos a week, allowing the Daily Mail to claim that each was her "raciest photo yet." I'm no great Ratajkowski fan, but she might have been onto something: If you've got it, flaunt it (within the limits of Instagram's terms of service, that is). Why not?
While the usual suspects — Emrata, the Kardashians, Madonna, Jason Derulo — are still posting various states of undress, more and more unlikely celebrities are getting naked on main. Bella Hadid, who has previously posted a fair share of sexy photos, has really been going for it as of late with artfully staged shoots with just a yellow fleece jacket.
Chelsea Handler got creative in the bath by putting Henry Kissinger over her Kissinger. Emo prince Conor Oberst of Bright Eyes got naked and thoughtful with his guitar revealing a lone sailboat chest tattoo.
And Ansel Elgort nearly broke the internet for charity by posting himself in the shower, wearing only a chain and with an artfully placed hand, to raise money for Brooklyn hospital staff. (It's since been taken down and replaced by a sunset video. Not nearly as fun.)
Comedian Mary Beth Barone recently told Oops the Podcast! of her reason for posting thirst traps on her main feed: "I put it out there and I have nothing to apologize for." Which is a vibe and a mood that seems to be infiltrating the rest of us as we get increasingly lonely, bored, and horny. So if you're famous, and feeling yourself, why not post that picture you feel sexy in on Instagram? Right now is the perfect time. Plus, you can always delete, so what do you have to lose? Until tomorrow, naked edition.