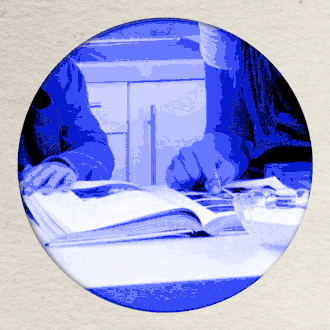 Animation: Stevie Remsberg; Source Video Getty
Personal Project is a week about hobbies and digging into our hidden talents.
As a kid, I loved to host tea parties, elaborately planned soirées for myself and my ten closet stuffed animals. The Easy-Bake Oven I received as a gift for some holiday or birthday meant that after a period of yearning, I could finally make pastries for these well-attended events. I marveled over the oven's tiny cake tins and struggled not to frost the cake before it was ready (a problem I still struggle with). It was around this time that I checked out every children's cookbook from my school library.
In the midst of what I've been calling my "self-isolation regression," I've been drawn to trying to recapture how those books made me feel about cooking — and the way I spend time.
As a child, the Little House on the Prairie and the Boxcar Children cookbooks — two franchises that value (and romanticize) youthful independence — were probably my favorites. Unsurprisingly, the Little House on the Prairie interspersed recipes with excerpts and illustrations from the books. Many of the recipes, like one for johnnycakes and an oyster soup, were taken directly from the pages of Little House in the Big Woods (my personal favorite) and By the Shores of Silver Lake. Every other recipe seemed to call for some amount of salt pork. Reading the Little House cookbooks alongside the Boxcar Children ones (think: making your own bread and even peanut butter) gave me false confidence in survival skills I most certainly did not — and do not — have.
I read cookbooks like these from start to finish, as though they were books in a favorite series. I was nervous to graduate from the Easy-Bake Oven to a Real Oven, but once I got my courage up, I started safe, with a recipe from a book that skewed younger than Little House on the Prairie and the Boxcar Children: The Winnie-the-Pooh Cookbook. I made the book's popovers, which, perhaps, was too advanced for a fourth-grader.
I've been cooking a lot again lately. It's still something I enjoy, something that I'm good at. I've been exercising my sauce skills with a creamy vodka sauce and a cilantro pesto (the leftovers are now in my freezer), and I've finally perfected Chrissy Teigen's magnificent miso butter that transforms anything it tops. The leftover miso pulled me into a baking spiral that resulted in truly decadent miso–chocolate-chip cookies. An experiment of adding chamomile tea into blueberry muffins helped to inspire my next cookie trial — a lemon-chamomile shortbread. As an adult, my cooking frequency goes in fits and starts, depending on where I'm living at the moment and how much the other person hogs the kitchen. Now that I live alone, I can hold court over the kitchen whenever I want.
Since I started staying home, I've been freshly drawn to habits from my adolescence, like listening to too much emo and rewatching Mandy Moore teen movies. Last year, my mom sent me two Winnie-the-Pooh cookbooks from my childhood, plus a Better Homes and Gardens cookbook from 1968 (representative recipes include: "mixed fruit mold" and "bacon liver bake"). I read all three straight through, as if they were novels.
Why not read more contemporary, grown-up cookbooks this way too? After a colleague recommended Laurie Colwin's Home Cooking — a mix of memoir and recipe — I ordered it and, after it arrived, read it in one night. There's a formula to a cookbook; each is ordered in a specific way that makes sense to its author. Each recipe has its own trajectory, from ingredients to what the end result should ideally look and taste like. Leaning on cookbooks isn't any sort of revelation; the domestic has long been relied on in times of crisis. But still, there's something to be said for knowing something has a guaranteed beginning and end.
Back in the Winnie-the-Pooh Cookbook, a recipe for Layer Sandwiches has caught my eye. It's basically a tea sandwich with a filling of sardines, cream cheese, lemon juice, hard-boiled eggs, and a little bit of mayo. To me, it sounds delicious. The Pooh Party Book (yes, a separate book) contains a chapter with guidance about throwing a spring party. I'm imagining these layer sandwiches, a Rabbit Salad (radishes, carrots, and a spring lettuce), and Butter Bear Cookies (ideally shaped like Pooh Bear and his friends). I'm not sure when I'll get the chance to invite people to share them with me, but — like reading cookbooks all the way through — it's certainly a nice idea.