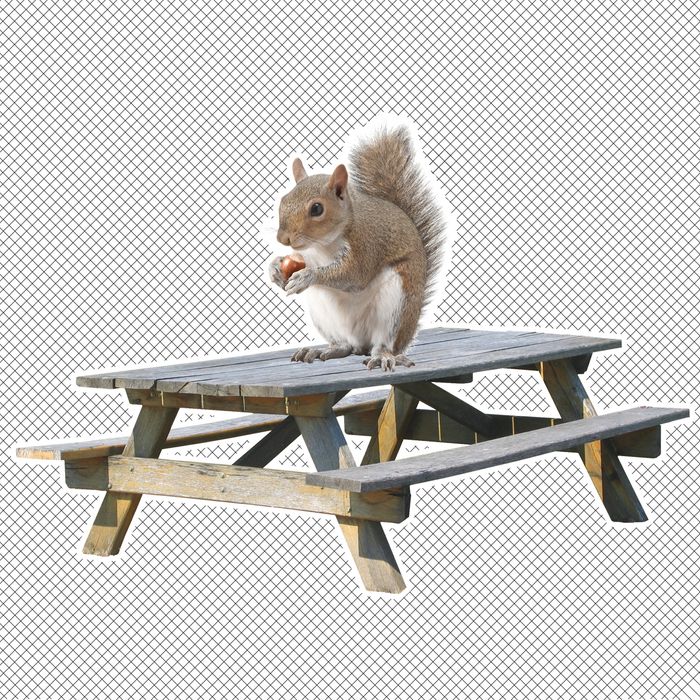 Here is a nice story that will warm your heart for two and a half minutes: A woman in Bolingbrook, Illinois, is doing a booming business building and selling tiny picnic tables for squirrels.
According to Buzzfeed News, the project is a joint effort between Maria Trezza, 56, and her neighbor Rob. Trezza had worked as a lunchroom and playground aid at a school until the schools closed last month to prevent the spread of the coronavirus. She didn't come up with the idea for squirrel picnic tables herself, Trezza explained. One day, shortly after she was first put out of work, a friend of hers posted a picture on Facebook of a small picnic table she had purchased to put in her yard for squirrels. Trezza thought, "Oh my God, I want one," but she didn't think she could afford to buy one for $20. She told Rob about the tiny table, and two days later, he surprised her with her own.
After she posted a picture of her table — decorated with a small table cloth and flowers — to her Facebook page, Trezza said she had friends reach out to say they wanted their own. She asked Rob to make some more, and then their wholesome hustle was born. Business really picked up when Trezza's son, Dominick, tweeted about his mother's new hobby.
"If you're in/near Bolingbrook, buy a squirrel table from my mom. She's out of work right now," he wrote. Originally, he had only expected to get a few responses from friends, but the tweet went viral, garnering over 106,000 likes, and now Trezza and her neighbor are inundated with orders. Rob made 27 tables last weekend alone, Trezza told Buzzfeed. Each table currently goes for $20, or $22 if you want to add a tiny picnic blanket and peanuts for the squirrels.
Sadly, the tables are only available for pickup at the moment, but Dominick says they're working out a way to ship them around the country.
"They're so excited," Trezza said of her customers so far. "It's so funny to see how happy they are to see a little table,"
I mean, yeah. Aren't you happy to see this little table, with a sweet little squirrel dining at it?