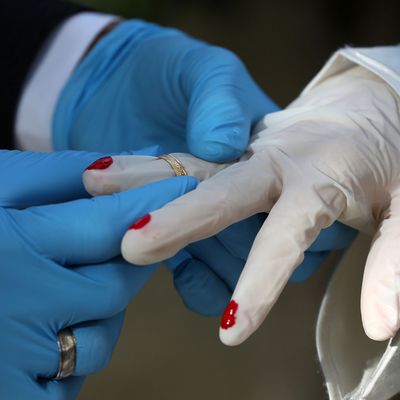 Photo: Majdi Fathi/NurPhoto via Getty Images
For couples who had hoped for spring and summer weddings this year, the coronavirus pandemic has necessitated a change of plans. In many cases, this has meant postponing or canceling nuptials. Other couples have adapted to CDC guidelines and held romantic, socially distanced weddings, with officiants marrying them from afar.
And now, there's another option for New Yorkers: weddings via videoconference. This past weekend, New York governor Andrew Cuomo announced on Twitter that couples in the state who want to be legally wed will now have the capability to do so virtually: "I am issuing an Executive Order allowing New Yorkers to obtain a marriage license remotely and allowing clerks to perform ceremonies via video conference," he wrote. Cuomo plans to sign the order this week, CNN reports; similar measures have been implemented in parts of Ohio and the state of Colorado.
A few months ago, a virtual wedding may have seemed outrageous, but digital parties — especially in places hit hard by the pandemic — are the new normal. People have turned to apps like Zoom, Houseparty, and FaceTime to do everything from celebrate their birthdays to participate in "virtual" music festivals. Even couples with marriage licenses are holding ceremonies over videoconferences, toasting from afar with friends and family. And, of course, there's the flip side: people breaking up with their partners over video, too.
It's unclear how long the order will be in place. New York has been the epicenter of the virus, and while there have been some indications that the virus has reached its peak in the city, it's likely that social distancing measures will remain in place for months to come. So, at least for the near future, it looks like the Zoom wedding is here to stay.