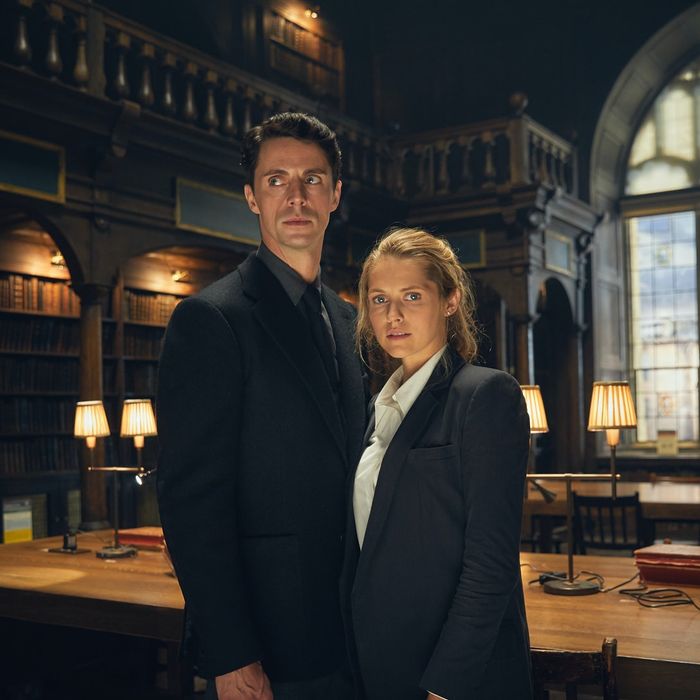 Television should be a gentle warm bath of pickling liquid for the tired brain. It should encircle the mind like a sweet Jell-O, protecting it for 45 minutes from the harmful elements, a buffer for incursions such as "thoughts." The ideal show is a delicate balance: silly enough to pay attention to with a bare minimum of mental faculties, but not so offensive that you give more energy to hating or mocking it than is healthy for your rest and recovery.
Imagine my delight at finding A Discovery of Witches, a beautifully shot, hysterically cheesy show about horny magical creatures on Amazon Prime that seems to have come out in 2018. It is about a woman named Diana, an extremely attractive postdoctoral historian/witch, the only person who can summon some old book from the Oxford library that the local vampires, demons, and witches are all fighting over. She falls in love with a hot, serious vampire named Matthew, played by a hot person actually named Matthew (Goode), while they are both trying to protect the special library book.
Crucially, A Discovery of Witches is not good. It's based on a 2011 novel of the same name that seems to be an amalgam of all the supernatural best sellers of the last two decades, part Harry Potter (Diana is an orphan who can't control her powers) and part Twilight (forbidden vampire love). The dialogue is schmaltzy and over the top, the acting is mediocre, and the plot is too complicated. The magical concepts feel like they were possibly conceived of last minute or under duress ("witch wind" is when a witch creates wind, "witch rain" is when a witch creates rain … you get it).
But none of this matters, because you only need to pay attention to about 45 percent of Discovery to get what's happening. Perhaps you don't understand exactly why Diana is staying with someone named "Ysabeau" in a castle in France, but as long as you get she is in grave danger for whatever reason, that will suffice.
In the meantime, you can just simply enjoy the castle in France, which is why A Discovery of Witches is eminently watchable — as watchable as you need it to be while, say, eating a snack or going to sleep. Every scene in Oxford is dappled in warm Juno Instagram-filter light. The demons, witches, and vampires send representatives to a kind of species government helpfully located in Venice, so the creatures are constantly jetting off on a motorboat and then slinking around the canals. Even the farm in "Madison County, New York," on which Diana's adoptive moms live, is like a Restoration Hardware catalogue. Diana has really, really pretty hair and great sweaters. You won't notice that nearly everything she says is boring.
Seeing as I can't really leave the six-mile radius around my apartment, it's nice to find a TV show that essentially acts like a live-action travel blog. I don't know what Oxford, England, is like in real life, but as far as I know, it is a place where people drink huge glasses of wine in pubs, where they kiss under giant stained-glass windows, and where you can bring your vampire boyfriend up to your "rooms." And I live there now in my serene, empty head.