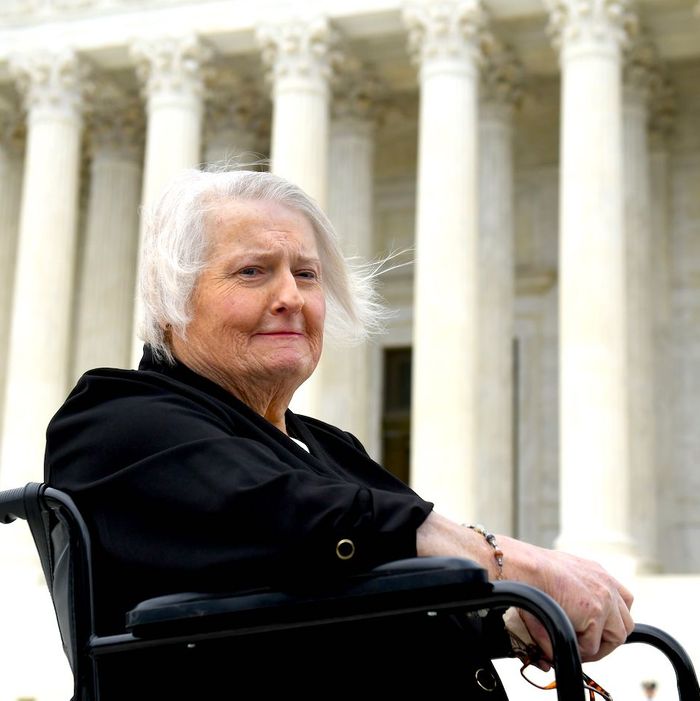 Aimee Stephens.
Photo: SAUL LOEB/AFP via Getty Images
Aimee Stephens, the first transgender person to bring a civil rights case before the United States Supreme Court, has died at age 59.
According to the New York Times, Stephens died in her Detroit home on Tuesday, from kidney disease complications. Her wife, Donna Stephens, issued a statement thanking Aimee's supporters "from the bottom of our hearts for your kindness, generosity, and keeping my best friend and soul mate in your thoughts and prayers."
Stephens's court case centers around the application of federal anti-discrimination laws to transgender workers, and could have landmark implications. In 2013, Thomas Rost — owner of R.G. and G.R. Harris Funeral Homes — fired Stephens after she informed her colleagues in a letter that would be transitioning. "What I must tell you is very difficult for me and is taking all the courage I can muster," Stephens, then the home's funeral director, wrote. "I have felt imprisoned in a body that does not match my mind, and this has caused me great despair and loneliness."
Therefore, Stephens announced: "I will return to work as my true self, Aimee Australia Stephens, in appropriate business attire. I hope we can continue my work at R. G. and G. R. Harris Funeral Homes doing what I always have, which is my best!"
Two weeks later, after six years of what her colleagues described as "thorough" and "very good" work, Rost showed Stephens the door. Rost later said he felt "uncomfortable" because she (although he refused to use Stephens's preferred pronouns) "wanted to dress as a woman." Stephens sued, arguing that her termination violated Title VII of the 1964 Civil Rights Act — "that employees should be judged on their merit, not their sex," as David Cole, the national legal director of the ACLU and Stephens's lawyer, put it.
Now, Stephens's case is one of three the Supreme Court is reviewing centered on workplace discrimination and LGBTQ employees. The Justices heard oral arguments in October, with a decision landing "perhaps as soon as Thursday," according to the Times.
"Aimee did not set out to be a hero and a trailblazer, but she is one," ACLU lawyer Chase Strangio said in a statement. "And our country owes her a debt of gratitude for her commitment to justice for all people and her dedication to our transgender community."