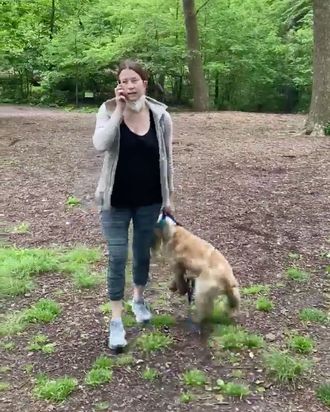 Amy Cooper calling the police.
Photo: @melodyMcooper/Twitter
On Monday morning — Memorial Day — Christian Cooper was bird-watching in the wooded area of Central Park known as the Ramble when he saw a dog off leash. Cooper, a black man, asked the dog's owner, a white woman, to leash her dog (while there are many off leash areas for dogs in Central Park, the Ramble is not one of them) and the next thing he knew, the woman was calling the cops, telling Cooper, "I'm going to tell them there's an African-American man threatening my life."
Video of the incident, which Cooper filmed on his phone, went viral on Monday evening, after his sister, Melody Cooper, posted it to Twitter. It has since been retweeted over 100,000 times.
In the video, the dog's owner, Amy Cooper (no relation to Christian and Melody) can be seen crowding Christian Cooper and pointing her finger in his face — "Please don't come close to me," he asks — and then backing away and calling the police, while her dog struggles in her hands.
"I'm sorry, I'm in the Ramble, and there's a man — African-American, he has a bike helmet — he is recording me and threatening me," Amy told police, repeatedly emphasizing Christian Cooper's race before shrieking again, more dramatically, that she was being threatened.
"Thank you," Christian Cooper says when she finally clips the leash on her dog.
The NYPD told CNN that when officers responded to the call, neither Amy Cooper nor Christian Cooper were there, and that no arrests or summons were made.
The clip sparked outrage online, with some drawing parallels between the woman's false accusation that she was being threatened, and the recent killing of Ahmaud Arbery, a black man in Georgia who was pursued and murdered by several white men in February while out for a jog because the men claimed to suspect him of committing burglaries in the area.
"When she says 'I'm going to tell the cops an African American man is threatening my life,' that's a threat — but also a confession," wrote Democratic congressional candidate Qasim Rashid. "A confession that she's well aware of America's systemic racial injustices — and she's ready to weaponize them against him. That's potentially lethal."
In the hours after the video was posted, Amy Cooper's dog, a cocker spaniel named Henry, was surrendered to the rescue from which Amy Cooper had adopted him several years ago, and Franklin Templeton, the multinational investment firm where Amy Cooper worked as the head of insurance investment solutions, suspended her.
"We take these matters very seriously, and we do not condone racism of any kind," Franklin Templeton wrote in a statement on Twitter Monday night, adding that it was investigating the issue. The next day, the company announced that it had fired Amy Cooper, writing; "We do not tolerate racism of any kind at Franklin Templeton."
On Tuesday morning, Amy Cooper told CNN that she wanted to "publicly apologize to everyone," saying, "I'm not a racist. I did not mean to harm that man in any way."
"I think I was just scared," she said. "When you're alone in the Ramble, you don't know what's happening. It's not excusable, it's not defensible." She added that her "entire life is being destroyed right now."
When asked during an NPR interview on Tuesday night about Amy Cooper's apology, and her claim that she is "not a racist," Christian Cooper responded: "I can't tell you whether or not she's a racist. I can tell you what she did in that moment, and it was a moment of stress and of confrontation and of, probably, spectacularly poor judgment. But in that moment, what she did was definitely racist. Now, should she be defined by that, you know, couple-of-seconds moment? I can't answer that. I think that's really up to her and what she does going forward."
As the week progressed, city authorities began to intervene in the case as well. On Wednesday, New York City's Commission on Human Rights announced it was launching an investigation into the incident, and sent a letter to Amy Cooper requesting her cooperation in the matter. In such events, the Commission is able to fine violators of the law, award financial damages to victims, and/or order trainings on the NYC Human Rights Law and assign community service.
"At a time when the devastating impacts of racism in Black communities have been made so painfully clear — from racial disparities in COVID-19 outcomes, to harassment of essential workers on the front lines — it is appalling to see these types of ugly threats directed at one New Yorker by another," Sapna V. Raj, deputy commissioner of the Law Enforcement Bureau at the NYC Commission on Human Rights, said in a statement, per ABC News. "Efforts to intimidate Black people by threatening to call law enforcement draw on a long, violent and painful history, and they are unacceptable."
In addition, the Central Park Civic Association has also called on New York City mayor Bill de Blasio to ban Amy Cooper from the park for "her deliberate, racial misleading of law enforcement and violating behavioral guidelines set so that all can enjoy our city's most famous park."
This post has been updated.