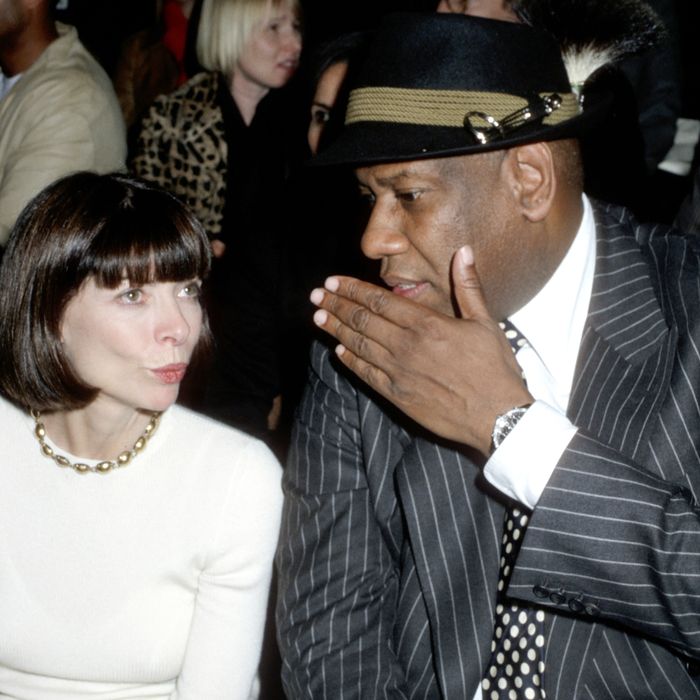 Photo: Ron Galella, Ltd./Ron Galella Collection via Getty
André Leon Talley's new memoir, The Chiffon Trenches places him firmly in the center of what he calls fashion journalism's "golden age."
He began his career in 1974, as Diana Vreeland's "helper," as she called him, at the Met Costume Institute, and worked his way up to a similar role at Vogue in Anna Wintour's court. Talley takes pride in his influential station as the lone African-American man "beside a small, great, powerful white woman," and name-drops his way through decades of fashion history, detailing his friendships with Karl Lagerfeld, Andy Warhol, Yves Saint Laurent, John Galliano, Loulou de la Falaise, Betty Catroux, and Lee Radziwill, among others.
For such glamorous subject matter, though, The Chiffon Trenches can be a dark, complicated read. Most of Talley's relationships do not last, and he is left with his demons, and the demons of the troubled characters he chose to surround himself with. (Whom, it should be noted, neither confirm nor deny their alleged troubled tales.) But it's also dishy, filled with years of gossip about some of fashion's most notable figures: inter-designer feuds and grudges and dinner-party cocaine. Below, nine memorable details:
1. One of A.L.T's first Vogue assignments was with Madonna in 1989. "She smiled warmly when she introduced herself and said, 'Hi, I'm Madonna, you want a blow job?"
2. Yves Saint Laurent sent nasty letters to Tom Ford, who took over Saint Laurent's namesake like in 1999. After one particular show, Saint Laurent allegedly wrote, "In 13 minutes you have managed to destroy 40 years of my work." Ford allegedly told Talley that they were "the meanest and most vicious letters he has ever received in his lifetime."
3. For dinner parties at his home, Halson served cocaine for dessert. In a sterling silver Elsa Peretti bowl, of course. (The main course was a baked potato with a side of caviar and sour cream.)
4. John Fairchild, publisher of the fashion news bible Women's Wear Daily, had an ongoing feud with Valentino, one of the era's major designers. It was so bad, Valentino and his partner, Giancarolo Giammetti were airbrushed out of party photos. "If Mr. Fairchild couldn't get Valentino's face out, he would resort to assigning the generic label of 'an Italian designer' to the caption," Talley writes.
5. Karl Lagerfeld traveled with a Goyard suitcase packed full of his favorite bread. Bread was Lagerfeld's "one craving" while dieting, Talley writes. "He would chew the bread, savoring every bite, and then spit it out into a napkin," Talley continues. "That seemed like a lot of trouble, but it worked for him, apparently, as he eventually lost one hundred pounds."
6. Naomi Campbell traveled with ten different cell phones for ten different countries. She kept them in a "Hefty zip-lock bag," Talley writes, and stowed in her carry-on with a fresh bottle of Tabasco sauce.
7. Anna Wintour once told A.L.T to go to the gym. "I wasn't offended, and it wasn't out of nowhere," he writes. "Fashion at the time was obsessed with thinness. I'd gained weight in Durham and brought my binge-eating habits back to New York with me. My clothes fittings made clear to me exactly how big I was getting, and Anna Wintour's concerned glances did not go unnoticed. […] If Anna Wintour wanted me to go to the gym, I'd go to the gym. Plus she offered to pay for it, so I had to take it seriously."
8. Bianca Jagger used Louis Vuitton hunting gun cases as luggage. "Because of the length, she could pack her Zandra Rhodes crinoline evening gowns flat, no folds, in these coffin-like cases," Talley writes.
9. Stylist Carlyne Cerf de Dudzeele wore Uniqlo jeans to Marc Jacobs's wedding. They were black, and she paired them with a black Azzedine Alaïa fringed sweater and an "armful of swag," including pavé diamond bracelets and a "huge, gaudy" vintage Rolex women's watch with a pavé diamonds face. On her feet: leather Manolo Blahnik thongs, with a "sensible heel."
To keep reading, you can order a copy of The Chiffon Trenches, here.