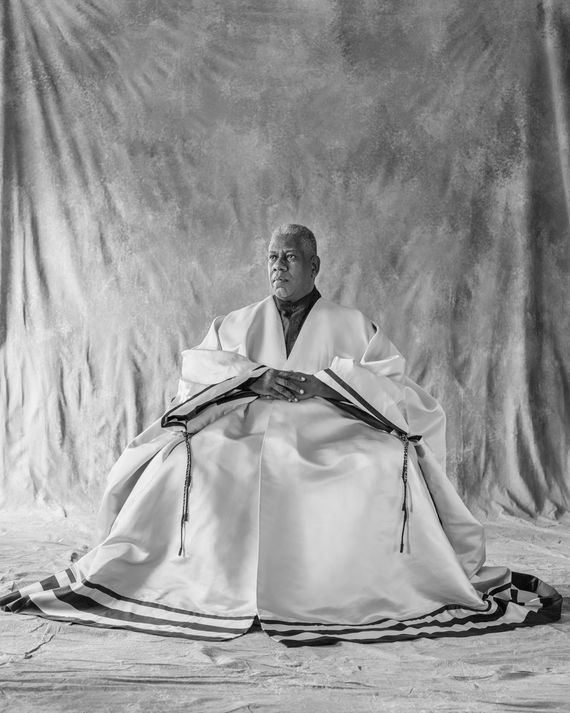 Photo: Jonathan Becker/Contour by Getty Images
André Leon Talley's life in quarantine is not so different from the time before. He loves his house in White Plains and spends the days reading and watching Netflix in his UGG boots and trademark caftans in various shades of black and burgundy and olive green. Before our phone call, he warmed up a shepherd's pie brought to him the night before by Alexandra Kotur, the former creative director* of Town & Country, which he ate on a "beautiful plate by Ralph Lauren." He telephones regularly: Sandra Bernhard every day, Carolina Herrera every other, and Gloria von Thurn und Taxis, whom he calls his "missing sister." He refers to everyone by their full name each time so there can be no confusion. He would love to hear from Anna Wintour, but she does not call.
"This is what matters in life: how you impact people, how people are impressed by you," he says, his voice still mellifluous with grandeur. "Did you read the letter from Ralph Lauren in the back of my book?" No matter, he'll read it aloud. His memoir, The Chiffon Trenches, is a fiercely treasured shoe box of memories he has collected throughout his career: summering at Karl Lagerfeld's villa in Biarritz, dancing with Diana Ross at Studio 54, attending Marc Jacobs's wedding. It is a reminder of his own once-lofty perch at the pinnacle of high fashion as the creative director of U.S. Vogue — the first and only black person to occupy that job. "As I saw it, I was meant to be by Anna Wintour at all times and encourage her visions," he writes. "I'm not belittling myself to say my strength was in my ability to be beside a small, great, powerful white woman and encourage her vision."
Tabloids have been eager for chum, calling the book "catty" and an "extended rant" against his former boss. The people have eaten it up. To Wendy Williams, who described him as spineless, he says, "She no longer exists for me as a friend. She tears down people to build herself up." To Ralph Rucci's Instagram post applauding Talley's bravery and calling Wintour satanic: It's "a screed. S-C-R-E-E-D-I-S-H. With 12 exclamation points." He wants the entire fashion world to know that, whatever ensuing drama the book may cause, he's still Team Anna.
"This is not a vengeful, bitchy tell-all," he says. He adds that he had sent Wintour the first galley and asked if she wanted anything cut. She only requested that private stories of her children be taken out and wished him well through official channels. "I will not criticize her," Talley continues. "My book is an epistle to everyone that I love. It's a love letter to Anna Wintour. I love her deeply." He says "love letter" no less than a dozen times.
If anything, his writing about Wintour is the wounded cry of a company man who devoted his entire life to an institution only to get left behind. Talley remains on the masthead of Vogue as a contributing editor and receives a monthly pension from Condé Nast. ("Graydon Carter got the golden parachute," he says of the former Vanity Fair editor. "I deserve perhaps a better pension than I have.") But what he craves is relevance. The view from the top. Over the last two decades, he slowly receded into the background at Vogue.
He hosted the Vogue podcast (for which he was paid $500 per episode) until it disappeared without a trace; he was doing red-carpet interviews at the Met Gala until one year he wasn't. He was less fired than simply forgotten. "No one ever took the time to send me an email or [make] a phone call," he says. "This is what has hurt me. It makes me emotionally devastated because I could've walked through the arctic floes for Vogue and Anna Wintour."
One of his favorite stories from the memory vault is how he put John Galliano on Wintour's radar and helped save the designer's now-infamous 1994 show staged at the São Schlumberger residence. In the book, Talley recounts being "fed up" with the lack of recognition. He writes, "It started becoming clear I'd hit a glass ceiling at Vogue. It was Anna Wintour who had officially 'saved' John Galliano, but I was the one on the ground, keeping the seams straight, so to speak. I had done this great job but wasn't being treated properly or recognized for my efforts."
I ask him how it felt to be underappreciated and about the way Wintour took credit for his work; he is immediately taken aback that I would even suggest such a thing. We both pull out the book and read the same lines out loud to each other, still arriving at vastly different conclusions. "That was not necessarily referring to Anna Wintour. Maybe that was referring to in general," he says. "That's a very bad reading of that."
Talley is not a man of introspection, and one senses a danger in looking too closely. In The Chiffon Trenches, his eye is constantly trained elsewhere — on extravagances and socialites and witty bons mots — rather than on himself, in part because he sees himself as an accessory in someone else's court. There are dramatic occurrences with little explanation: like Andy Warhol routinely grabbing Talley's crotch, how he was quietly dismissed from the entourage of Lagerfeld's, or why he eventually loses his position as creative director. He may describe pathological behavior, but he never calls it that. An orange is not necessarily an orange.
Race looms uncomfortably in the periphery. In the years since his 2018 documentary, The Gospel According to André, Talley has been game to discuss the more overt forms of racism he has experienced, like how Clara Saint, a publicist at YSL, allegedly called him "Queen Kong" behind his back. It is the racism from those he calls his friends that places him at a loss.
Take, for instance, his description of Loulou de la Falaise, a French socialite and Yves Saint Laurent muse. In The Chiffon Trenches, she is one of his favorite dancing partners at Studio 54, and he writes of her glamorous, scandalous wedding to Thadée Klossowski, the son of the painter Balthus. There is no mention of the moment that caps off Hilton Als's devastating 1994 New Yorker profile of Talley, "The Only One," in which the same Loulou de la Falaise calls him a "n—– dandy" at a luncheon to the apparent laughter of fellow attendees, including Talley himself.
"That profile does not exist in the universe in which I walk," Talley says. "This writer does not exist. He got it wrong."
"So she never said that?" I ask.
"Loulou was one of my greatest friends. A dear loyal friend," he replies. "She could have said it, but for her, that was not racist to say what she said. I will not repeat it. But it did not come from a place of racism."
Talley pauses. "I see you've done your homework," he says, the same advice he gives to young people looking to break into the fashion world. "You went back trying to get the dark parts. Keep going, keep going."
On some level, he recognizes that he has compartmentalized racism but is unwilling, or simply unable, to stop. There are moments in the book where he stands at the threshold of revelation: The Chiffon Trenches is the first time he was able to admit he was sexually abused as a child and that it stunted his ability to form romantic relationships. He sees his subsequent career as one of transcendence, of containing the dark parts and putting on a glamorous face. "I just kept going," he says. "My career was important. I kept getting up every day and doing what I had to do."
As for the future, Talley will carry forth: He plans to launch a fragrance called Moiré Noir. He would love to adapt his life for the screen. And yes, even as the pandemic is wreaking unforeseeable change upon the fashion and media worlds, he would return to Vogue in a heartbeat if Wintour asked him to. "Of course," he says. "But she never will."
*An earlier version of this piece incorrectly stated that Alexandra Kotur is the current creative director of Town & Country. She is no longer with the magazine.
*This article appears in the May 11, 2020, issue of New York Magazine. Subscribe Now!