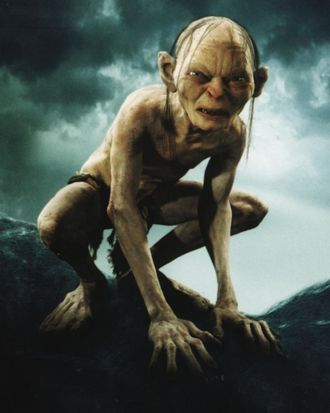 Photo: New Line/Kobal/Shutterstock
As we know, celebrities are losing it in isolation. On one end, we have people who can't stop going live on Instagram, and on the other, there is Madonna. And in spite of all of the talk of celebrity culture "being over," it seems like their content production may be at an all-time high.
My tolerance level for it, though, is extremely low — seeing rich people's roomy homes and pools and "Imagine" covers is both dull and unhelpful. Given this, the only celebrity livestream I'm interested in tuning into is one that will read me a bedtime story. And today, my prayers were actually answered.
Andy Serkis, best known as the voice of Gollum in Peter Jackson's The Lord of The Rings films, is livestreaming a reading of The Hobbit, the prequel to J.R.R. Tolkein's LOTR trilogy. "While times are tough, I want to take you on one of the greatest fantasy adventures ever written, a 12-hour armchair marathon across Middle-earth," he said in a statement about the stream. Proceeds from the reading (the stream will include a GoFundMe link) will be donated to two U.K. charities.
Serkis follows Daniel Radcliffe and David Beckham, who announced yesterday that they'd be reading chapters of the first Harry Potter book, which people can listen to for free on the Wizarding World website and on Spotify.
Gollum's livestream begins tomorrow, at 6 a.m. ET. Plan your Friday accordingly.