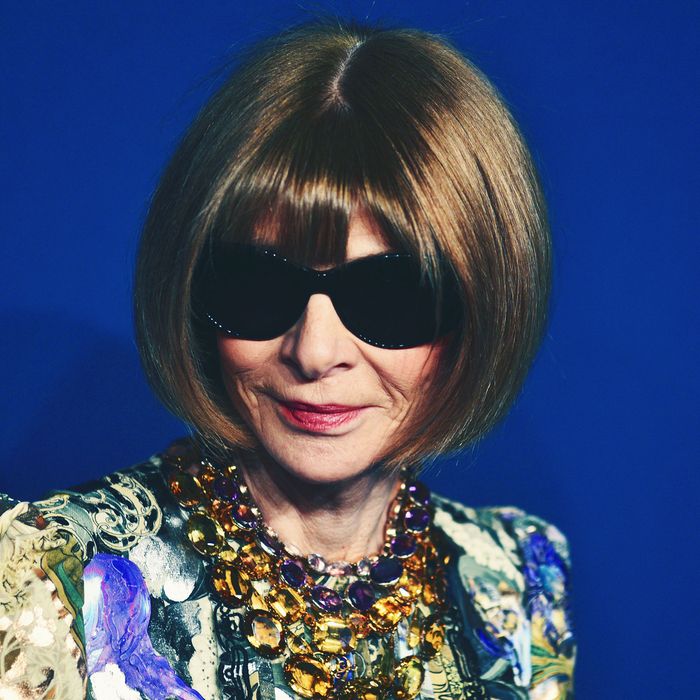 Anna Wintour
Photo: Erik Pendzich/Shutterstock
Remember when, a million years ago, all of Prince Harry's notable exes (and rumored sort of exes) showed up to his wedding to Meghan Markle? There they were, Cressida Bonas, Chelsy Davy, and even Ellie Goulding, wearing silly little hats, watching another woman marry the actual prince they'd dated. It may have seemed a bit strange, but it wasn't unusual for the royal family: The New York Times pointed out that "Prince William included at least four exes at his 2011 wedding to Kate Middleton" and "[Prince Charles] famously invited his then former girlfriend and now wife Camilla Parker-Bowles to his 1981 wedding to Princess Diana."
But could this whole inviting-exes-to-your-wedding just be a British Thing? I wonder this because it turns out that Anna Wintour, the British editor-in-chief of American Vogue, allegedly did the same. This is according to André Leon Talley, who noted this fact in his memoir, The Chiffon Trenches. The book, released today (May 19), details his time as a Vogue editor, including his close relationship with Wintour.
In the book, Talley briefly mentions attending Wintour's 1984 wedding to David Shaffer, "in the middle of the day, in the middle of the week." He explains that he was surprised to find that all of Wintour's exes were present at the small, 40-person affair:
I wore my best gray Dior suit and left straight from the office, arriving at Anna's Sullivan Street home at twelve-thirty p.m. … The banquet table was filled with family and, strangely, her ex-boyfriends. They all came over from England for her wedding. I guess it was some kind of English custom.
Perhaps, perhaps. But it really is all a bit unclear. I mean, maybe it is just a gracious gesture; maybe Anna Wintour and Prince Harry ended things happily and mutually with their exes, and now count them among their great friends. Maybe it is one of those "stiff upper lip" things. But honestly, when it really comes down to it, inviting your exes to your wedding could be considered a power move — it's perhaps your best opportunity to show them how hot you look and how great your spouse is. That, I suppose, is something I can get behind.