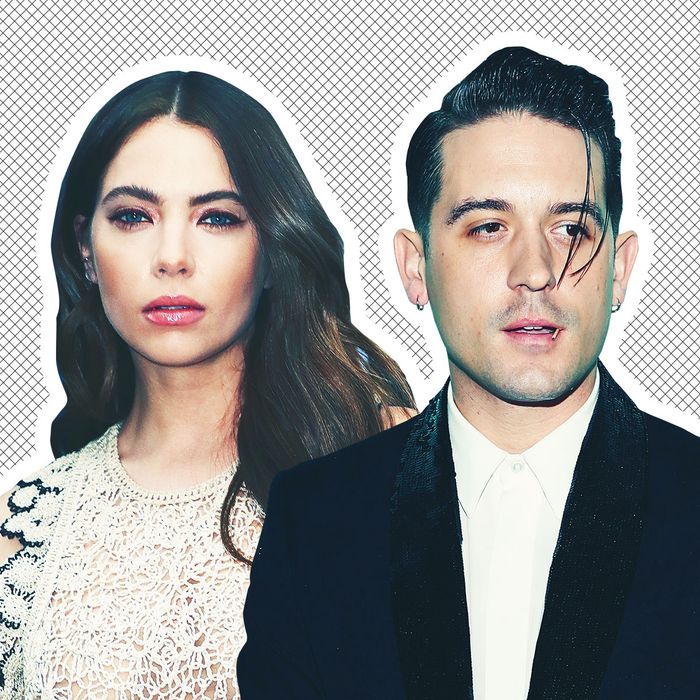 Ashley Benson and G-Eazy.
Photo: Getty Images
I try to be a good person. After dirtying dishes, I promptly clean them; when a friend comes to me to complain of a particularly unpleasant person in their life, I heartily proclaim the offender to be my enemy as well. And yet, despite my intent to be a benevolent presence on this Earth, I keep finding myself forced to think about a man who goes by the name "G-Eazy."
I first learned of the rapper in October 2018, when he had a particularly tragic Halloween after splitting from his partner at the time, Halsey. This year, he bombarded back into my consciousness when he and certified Hot Girl™ Megan Thee Stallion were spotted getting cozy over Super Bowl weekend. To my misery, he has returned, once again at the center of celebrity-dating speculation: This time, people suspect that he and actress Ashley Benson are "a thing."
Over the weekend, photos emerged of G-Eazy and a "female friend," widely believed to be Ashley Benson — who recently split from her girlfriend of nearly two years, Cara Delevingne — exiting Lassens Natural Food and Vitamins in Los Angeles together. Naturally, fans are losing it on social media. "i don't want to live in a world where ashley benson broke up with cara delevingne to date g-eazy," one person tweeted. Another: "ashley benson breaking up with cara to date g-eazy is like a cry for help."
Aside from the recent photos, internet sleuths have latched onto two pieces of evidence that Benson and G-Eazy are a thing. Way back in January, the rapper posted an Instagram slideshow of dapper photos of himself, which Benson liked and responded to with a red heart emoji; G-Eazy then replied with a blue heart emoji. More recently, in response to G-Eazy's Valentine's Day post — more photos of him, with the caption "Happy v day 🌹🌹🌹💔💔💔 but you can't be my girlfriend" — she commented, "The longest legs lolll."
At this point, I'm not fully convinced they're dating. Just a few weeks ago, Benson and G-Eazy released a cover "Creep" by Radiohead, which the rapper posted to his YouTube channel. Isn't it possible they're simply collaborating again — and, uh, taking some liberties with social-distancing mandates? Perhaps they got hungry while recording and had to make a snack run?
Also, while rebounds are notoriously regrettable, imagine going from Cara Delevingne to G-Eazy. I simply cannot!