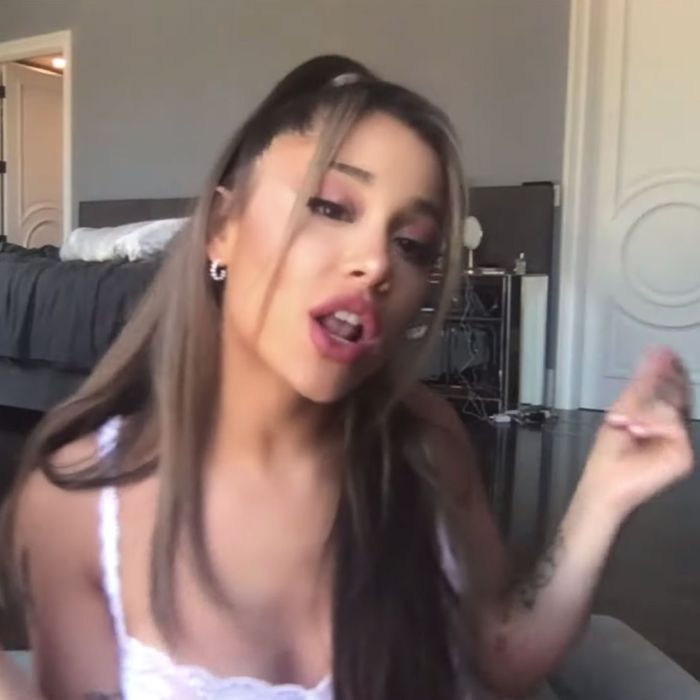 Photo: Ariana Grande/Youtube
Ariana Grande and Justin Bieber released a video this morning for their song "Stuck With U," shot in social isolation and with artwork (and a lyric video) from cartoonist and illustrator Liana Finck. And I know what you're thinking: "Huey Lewis and the News already have a song called 'Stuck With You.'" Yes, I know, but I think there's room for two of them, particularly when you consider this one uses the letter U.
The video is made up of clips from fans and celebrities (Gwyneth Paltrow, Kendall and Kylie Jenner, Ayesha and Stephen Curry, Ashton Kutcher and Mila Kunis, etc.) enjoying each other's company while socially isolating, and proceeds from streams and sales of the song will be donated to First Responders Children's Foundation. There are also clips from Grande and Bieber themselves, with the former often seen cuddling with her very cute dog and the latter often seen walking with his wife on what appears to be a very large estate.
Ahead of the video, Bieber solicited clips from fans on Instagram, writing "Help us make the #StuckwithU video. I want to see you guys having fun in quarantine. This is the prom song for everyone who can't go to prom now."
"This moment really means so much more than it ever could have if it had happened any other way or if it had been any other song," Ariana Grande said in a post on Instagram ahead of the video's premiere. "Being able to lend our voices to this project and collaborating on this has been so fulfilling and I really just love this song so much." And it is a good song, if you ask me.
The video, I feel it is necessary to disclose, made me cry immediately. I should also disclose I have been crying regularly at this State Farm commercial, even though at this point I have seen it 4,000 times (and even though it is trying to sell me State Farm, which is uncouth). The display of resilient happiness is supposed to fill you with something like hope — a dad and his daughter can still do ballet in their living room; Gwyneth Paltrow and Brad Falchuk can dance together, even now. But it's hard to find hope, rather than anger and sadness, in the face of so much unnecessary pain. It's just all so exhausting. Let the people rest. Not even Gwyneth Paltrow grooving to a slow-dance banger can bolster spirits now.
However, you do see Ariana Grande's new boyfriend in the video and, as a co-worker was quick to point out, he looks kinda like Pete Davidson.