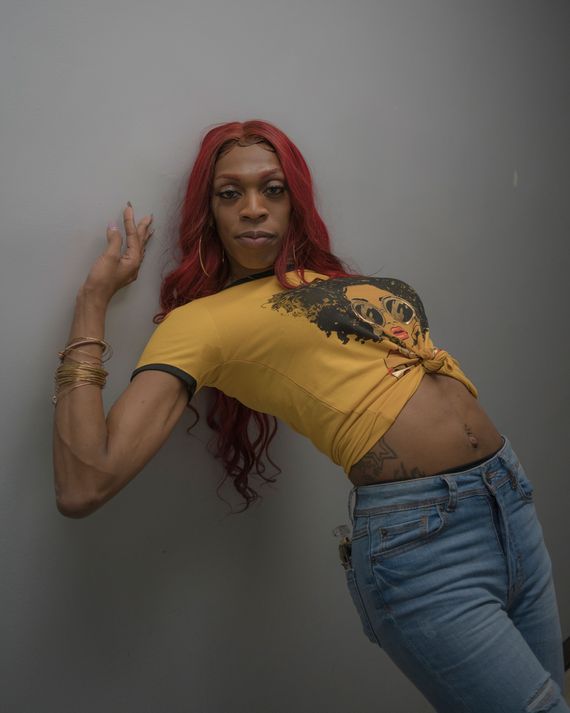 When photographer Shan Wallace was a teenager growing up in Baltimore, she found herself through voguing. While being raised by 60-plus-year-old grandparents in the Park Heights neighborhood, she began to explore and discover her own identity taking trips to visit her siblings and their friends in West Baltimore.
"The more I hung around them, the more I started to figure out who I was as a young queer kid; who I was as a Black gay woman," Wallace tells The Cut of the group, which was mostly queer teens. "All of [my sister's] friends were gay men and I remember that the one thing they would do was vogue."
That was about 15 years ago. Now Wallace, whose work is predicated on shooting Black people in a "critical" way that provides truthful images and stories and also adds their often-forgotten and -overlooked narratives to the historical archive, is returning to those beginnings with a new, ongoing series of over 400 images that centers not only the art form of voguing, but the ballroom community that nurtured it. This, coming as voguing is thrust into a glamorous new high-production spotlight by way of HBO Max's Legendary.
As told in documentaries like Paris Is Burning, How Do I Look, and Kiki, voguing is a 40-year-old dancing style, created and nurtured by the often marginalized Black and brown LGBTQ+ community. After starting in the ballroom scene of Harlem in New York City in the 1980s, it has spread worldwide with high-stakes, high competition balls happening in major cities like NYC, Chicago, Paris, and more. And while for some this has turned it into a sport with top dollar payouts, for others it remains a form of self-expression, helping its practitioners navigate their own queerness and bodies through both movement and the community it brings.
"This project really allowed me to step into a place that I once was in and step into a young queer me and realize how connected I am to ballroom and to voguing because it's a part of my understanding of my sexuality," Wallace says. "It helped me gain my understanding of what queerness is and what community looks like because that's really what it was — community. We didn't compete, we didn't do anything with our talents. We just acted as though West Baltimore streets were our stage and we were just trying to outdo each other."
As a dance form, voguing tells a story that's up to the dancer. For many gay men and trans women in particular, it can allow for an expression of femininity that might not otherwise be allowed. But some styles of vogue also prize the masculine. For Wallace, the play between these styles allowed her to explore an androgynous version of herself rather than the more "dom, butch" lesbian aesthetic she had been identifying with prior.
The new series deals with this. Inspired by a series that Wallace shot for Medium's Zora at Baltimore Safe Haven, an organization that advocates for and gives support to the city's most vulnerable queer and trans people, it includes not only portraits of trans women (which was important to the photographer) but also photos of ballroom participants playing with their own appearance. And while there are a number of high glam shots from The Inaugural Ballroom Throwbacks Awards Ball in New York City this past February, some of the most compelling images depict a more rudimentary, DIY approach. They show a group of people making do, and living the lives they want to lead in narrow halls, dark corners, and on the streets of West Baltimore for no audience other than themselves.
"As a photographer I really try to push ways and methods of having a diverse archival collection," Wallace says. "It's about making sure that there are people who are Black and queer in this archive that go far beyond images of brutality and pain but include images of celebration, love, and communion. It should include images of us being our ordinary selves, doing our ordinary things."
"With ballroom, this culture is so transformative that there are so many things happening [within it,] that should be a part of the conversation, that should be a part of the archive, that should be a part of the images and narratives that we see and proceed to take in every day."
Keep scrolling to see more photographs from the series.