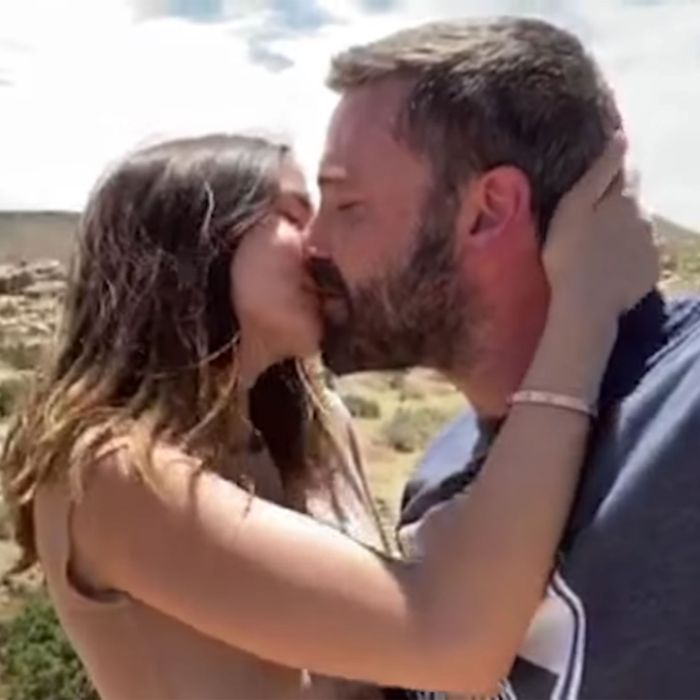 Ben Affleck and Ana de Armas have been clocking roughly 1 million steps a day to make sure that you don't forget about their blossoming relationship. Every day, while Los Angeles is under stay-at-home orders, the two don their face masks and dutifully trek miles and miles up and down the city streets. Sometimes their dogs are in tow, sometimes they stop to pick up iced coffee, and sometimes they kiss through their masks, lest you forget that these daily slogs are ultimately a celebration of love. The other day they appeared to wear matching necklaces.
This week, though, the couple mixed it up. Instead of wearing out a Fitbit on their daily constitutional, Benana de Armafleck shared their PDA with the world in the form of a music video appearance, smooching in the new video for Puerto Rican rapper Residente's song "Antes Que El Mundo Se Acabe."
As HollywoodLife reports, the short clip appears to be from the couple's trip to Joshua Tree at the end of April to celebrate De Armas's 32nd birthday (the same trip where she and Affleck became Instagram official).
Other couples featured kissing in the video include Bad Bunny and his girlfriend, Gabriela Berlingeri; and Zoë Saldana and her husband, Marco Perego. "We share the same fear because we have never faced a pandemic like this in these times, but a pandemic like this has never faced such a force of solidarity," Residente wrote in his Instagram caption announcing the video. "Thanks to all of the kisses in all of the languages."
Congratulations to all the happy couples involved. Hopefully this means that Ben and Ana's dogs got to rest up for a while after their weeks of constant walks.