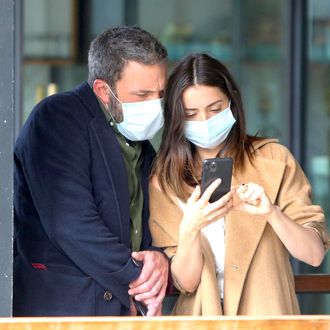 Someone's been dipping a toe in the waters of couples' jewelry.
Photo: BG004 /GC Images
As you may or may not have heard, Ben Affleck and Ana de Armas are dating — and dating very publicly at that. Although people in many parts of the country, Los Angeles included, have lately been under orders to please stay at home as much as humanly possible, the paparazzi have captured this pair on frequent dog walks; making donut runs; picking up coffee; nuzzling their masked faces together on the sidewalk. The social-distancing period has proved a very romantic time for these two.
True, Affleck and de Armas have only been dating for a few months, having met while filming a psychological thriller called Deep Water. But they have also been isolating together, which may have helped expedite their relationship timeline. Already, Benana would appear to be exploring couples' jewelry.
According to the very same Ana de Armas stan account the Knives Out actress recently scorned — de Armas did not seem to appreciate its snarky observations on how often she and Affleck leave the house — the pair has now been spotted wearing matching heart necklaces. You know, the kind that looks like a heart broken in half, which you and your best friend maybe had in elementary school? Yep!
Looks like things are getting pretty serious, huh. Just imagine Benana, cozied up on a plush couch under a large throw — in my mind, chenille — and combing, hm, Etsy seems about right, for a cute little token of their blossoming love. Just imagine, each one helping the other to fasten a tiny silver LOVE plaque around his or her besotted neck. Really feels like the natural next step for them, no?