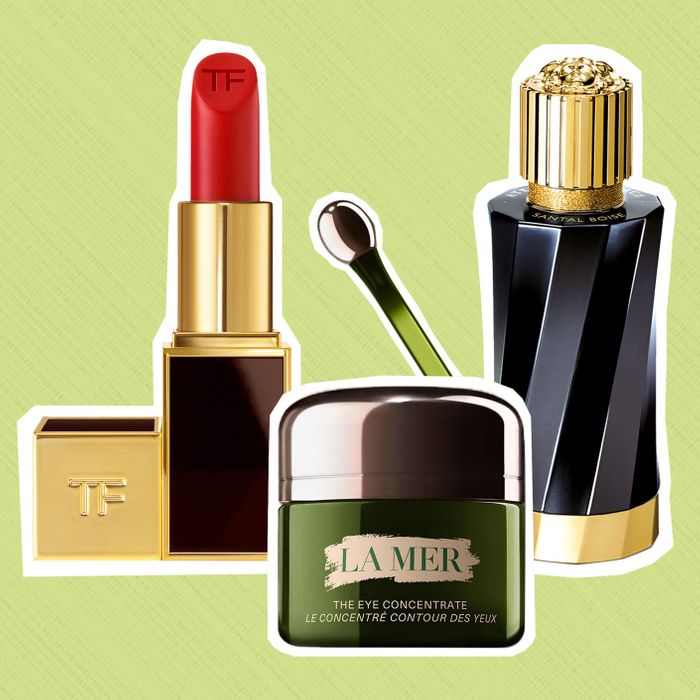 Photo: Courtesy of Saks Fifth Avenue
It's almost Mother's Day, beauty-lovers! There's no denying it: Moms are the ultimate makeup and skincare icons, inspiring many a look with their just-right lipsticks or their seemingly magical oils that leave their skin looking glowy. Moms are always the ones to turn to for any best-in-beauty questions, and they've always steered us in the correct direction with skincare (thank you, Mom!). And while many of us might be separated from our parents this year, that doesn't mean we don't want to send a token of our love, to offer a touch of comfort. To find the loveliest options, we asked Saks Fifth Avenue beauty experts to share the best-of-the-best products they use themselves, thanks to their own moms' advice. Read on for their lessons, and a little gifting inspiration.
If Your Mom Taught You a Little Indulgence Goes a Long Way
"My mom always told me an eye cream is your best friend, no matter what age you are," says Madeleine Braun, a Saks Beauty merchandise assistant. Her mother's right: Eye creams are for all of us, and especially for those who want an extra moment of luxury in their skincare routines. La Mer's The Eye Concentrate is a specialized treatment designed to reduce the look of dark circles, lines, and dryness. The elegant packaging, the little massage tool it comes with, and the brighter-looking glow are all perfect for the mom who deserves the world (and some great eye cream).
If Your Mom Taught You "Safety First"
Was there ever a moment when your mom didn't hound you about wearing sunscreen? No! And in this case, the hounding is warranted. "As a mother myself, I am eager to share with my son the importance of sunscreen," says Kate Oldham, the senior vice president and general merchandise manager of Saks. "There is nothing more important than to make sure that your skin is protected." Agreed. For your knowledgeable and always-prepared mom, gift a high-quality SPF: It's a game-recognizes-game move, and you constantly need sunscreen, even if your outdoor time is limited. Oldham loves this RéVive option: a transparent, skin-softening formula. Mom would be so proud.
If Your Mom Championed the Classics
There's a certain type of mom who knows what she likes and sticks with it. Just ask Rachael Citron, a Saks Beauty merchant assistant, who learned about her mom's favorite product early on. "She always says, 'My skin is 90 percent our family's good genes and 10 percent Laura Mercier tinted moisturizer,'" Citron explains. As the Citron household understands, this tinted moisturizer is a cult favorite since it gives just a hint of color but comes packed with hydrating ingredients. What's more classic than that?
If Your Mom Encouraged You to Stand Out
Every parent is special in their own way…and then there's your mom, the spiciest of the bunch! "My mom always wore the same fragrance every day," says Rachel Goldberg, Saks' digital content coordinator. "It's made me determined to find my own signature scent." Versace's Atelier Versace fragrance range is great for the mom who wants to stand out. This Saks-exclusive perfume highlights Srilankan sandalwood in a woodsy, smoky scent that's bound for signature status.
If Your Mom Was Always on the Go
This kind of time-pressed mom never misses a beat and makes sure you don't, either. The ultimate mom on the go needs a purse stocked with heavy-hitter beauty products that make you look like you put in way more work than you did. "My mother's pro tip on days when there wasn't enough time or energy to put on a full face of makeup was to throw on a red lip — it's the easiest way to make an impact with minimal effort," says Emily Crandall, Saks' integrated marketing coordinator. Tom Ford's creamy lipsticks (available in 35 highly pigmented shades) are perfect for moms who refuse to sacrifice their beauty for their busy schedules.
Images courtesy of Saks Fifth Avenue.
This advertising content was produced in collaboration between Vox Creative and our sponsor, without involvement from Vox Media editorial staff.