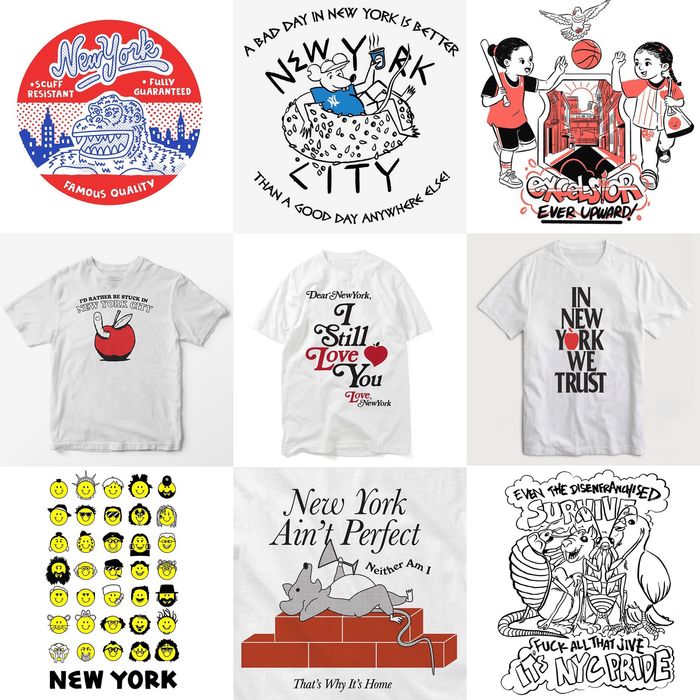 When Milton Glaser designed his famous "I ❤ N.Y." graphic on a scrap of paper in the back of a taxi cab in 1976, he never imagined what it would become. The slogan grew beyond New York itself, becoming a souvenir for tourists and a template for expressing feelings for just about anything.
Today, New York merch is much more subjective, representing the diverse hodgepodge of institutions that make up life in the city. Every corner now has its own logo and slogan, from an Odeon hat to a MoMA hoodie to the fuck you, you fuckin' fucks of Canal Street. But in a historic moment like this one, when New York is shut down and collectively hurting, we're arguably in need of a new, unifying stamp of pride.
Nicolas Heller, also known as @NewYorkNico, is a street-level documentarian of New York characters and the city's unofficial cheerleader. When the lockdown began, he started hosting competitions on social media to inspire a sense of community pride. His latest, organized in collaboration with the Queens and Brooklyn-based fashion boutique Alumni and its partner and creative director, Jaeki Cho, is a "Best New York T-Shirt Contest." So far, it has garnered over 500 submissions from around the world. He hopes one of the winning designs will become the "I ❤ N.Y." of 2020.
"You go outside and people are distancing themselves; we're wearing masks and are kind of scared of each other," Heller told the Cut this week. "I felt like it was important for people to be able to wear New York pride on their chests."
Tonight, 16 of the best T-shirt designs will be chosen by a panel of local "experts," including Opening Ceremony founders Carol Lim and Humberto Leon, stylist Mel Ottenberg, designer Heron Preston, and Heller's own father, whom he describes as a "legend" in the graphic-design community. (Glaser is a pal.) From there, three finalists will be chosen — two via a poll on @NewYorkNico's Instagram stories and one by the judges — and printed by Alumni, with all proceeds from sales going to The Campaign Against Hunger and God's Love We Deliver.
The competition is stiff. Submissions have been overwhelmingly on point, expressing a New York-flavored attitude of resilience, humor, and chutzpah with the help of stubborn local mascots like pigeons and rats.
"There's a lot of confidence in the language overall," said Cho, who was a finalist in Heller's previous competition, "The Best New York Accent Contest," which concluded last month. In the same way that the drawl of n'ah mean or the one-two punch of deadass can locate a denizen down to the borough, the emphatic (and oftentimes expletive) vernacular of a graphic T-shirt slogan can communicate for us when our mouths are otherwise covered.
"A bad day in New York is better than a good day anywhere else," reads one cheeky entry by the illustrator Clara Kirkpatrick, also known as @doodle_deli, whose shirt features a rat lounging in an everything bagel and drinking a cup of caw-fee. (Full disclosure: We went to high school together.) She said the slogan reminded her of a platitude her mother always says: That there's "never a dull moment" in New York.
This week, Chloë Sevigny, who's seen more than a few good New York T-shirts in her day, wore an entry by Haley Wollens, illustrated by Brianna Capozzi and Angelo Lanza. "Keep New York old and rotten," it said, incorporating logos from 2nd Avenue Deli, Dunkin' Donuts, and New York Magazine (also done by Glaser).
Of course, there were also variations on the classics: "Thank you, you fuckin' fuck" was one particularly heartwarming entry.
Graphic T-shirts are a cornerstone of New York fashion — an accessible medium that everyone, regardless of disposable income and experience, can participate in. Both Heller and Cho remember a time when a Supreme logo signified allegiance to a niche clique. "At one point, if you wore a certain streetwear brand, you had an automatic connection with a group of people from afar," he said. "It was like wearing your favorite band's shirt. It allows you to be recognized and signify that you're part of a collective."
In the age of Instagram, graphic t-shirts also allow us to scream from a tiny square on a screen — to loudly tell the world that we're "FEMINIST AF" or a maybe member of Hillsong. In the same way that Glaser's "I ❤ N.Y." graphic became empty over time, the t-shirt itself has arguably lost its hometown glory over the last few years, as the global fashion industry, influencers, and celebrities gobbled it up and spit back out as a luxury. "The Best New York T-Shirt" contest serves as a much-needed reminder of the personal value of a t-shirt, and the vital role it can play in reflecting the look and sound of a city.
Regardless of who wins, I can see all 500-something submissions being produced by individuals — a souvenir from the time we collectively looked a pandemic in the face and said fuck you, you fuckin' fuck.