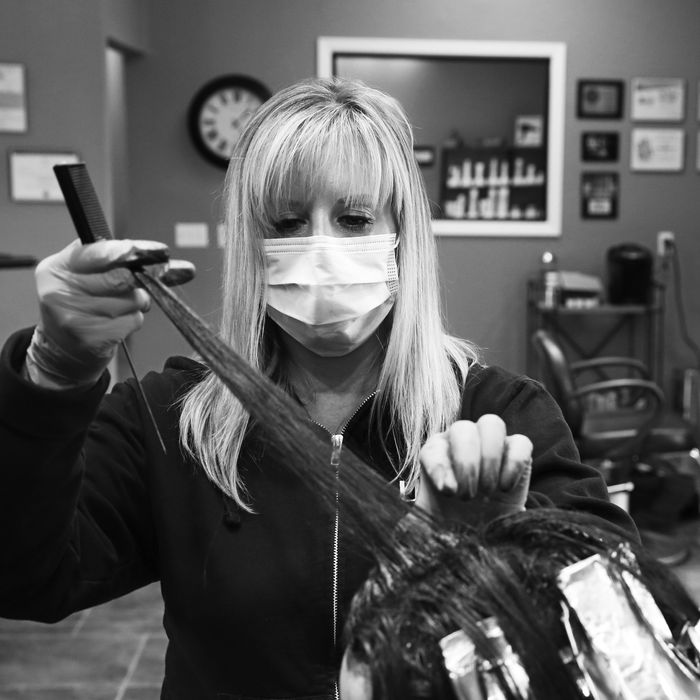 Photo: Rich Pedroncelli/AP/Shutterstock
After two months of lockdown, some California residents can finally have a professional cut their hair into an all-powerful shag and dye it a color that isn't pink. The Los Angeles Times reports that, on Tuesday night, California governor Gavin Newsom outlined the state's second phase of its reopening plan following March's shelter-in-place order, which includes the reopening of barbershops and salons in 47 of the state's 58 counties.
According to CNBC, 47 counties (not including Los Angeles County, the state's most populous) "self-attested" to meet the state's health criteria for reopening, which includes "less than 25 new cases per 100,000 residents in the past 14 days or less than 8 percent testing positive in the last week." But similar to other reopenings in the beauty arena, things will not be business as usual. A ten-page guide for hair services issued by the state requires the use of face coverings by all present, staggering of appointments, suspension of walk-ins, screening of both employees and clients, and the banning of handshakes and hugs, to name a few, in addition to the vigilant handwashing and consistent sanitizing that's now customary.
The guide also dictates exactly what kind of hairdressing can be done. Haircuts, weaves, extensions, braiding, wig maintenance, hair-relaxing treatments, and color services are all a go. Services that require employees to touch the hair on a client's face, however, like lash extensions, brow maintenance, and facials, are still suspended. In the meantime, you can always invest in a good mascara, keep growing your brows out, and give yourself a facial at home.