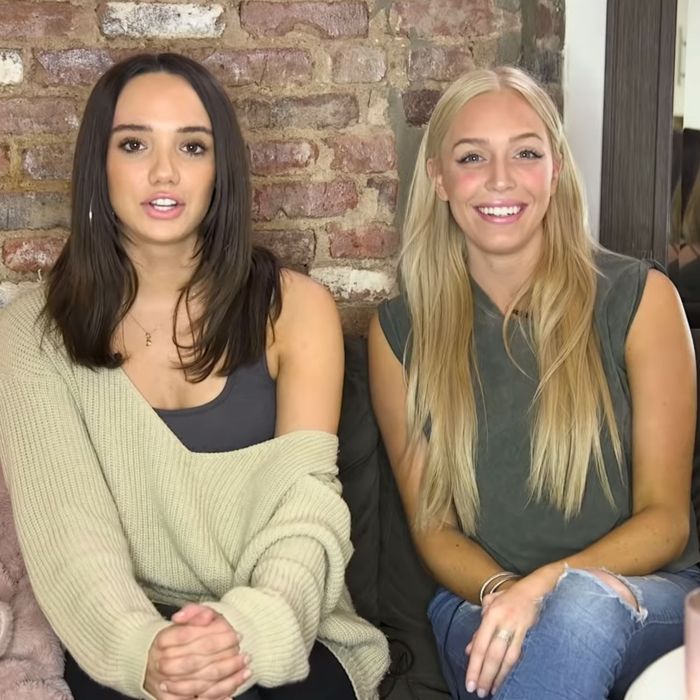 Sofia Franklyn and Alexandra Cooper, hosts of
Call Her Daddy
.
Photo: Courtesy of @Chicks/YouTube
Podcasts are a lot like the ocean in that they cover 70 percent of our planet, but over 80 percent of them are undiscovered. Also, they're both full of incredible beauty, disgusting garbage, and they're constantly subjected to dramatic, stormy upheavals.
The latest squall to hit the podcast universe involves Call Her Daddy, the racy, weekly Barstool Sports podcast hosted by Sofia Franklyn, 27, and Alexandra Cooper, 26, where the two discuss their lives and sexual experiences in New York City — what they call "uncensored, real, female locker room talk." In the two years since it launched, the podcast has gained legions of loyal fans, and rocketed to the 20th spot on Apple Podcasts. But the pair posted their last episode together on April 8, and according to reports, they were feuding with both each other, and with their higher ups at Bartstool. On Twitter, fans called for Barstool to #FreetheFathers ("Fathers" being listeners' nickname for the two hosts) and on May 17, Barstool's controversial founder, David Portnoy, posted his own episode of the show in which he called the hosts "unprofessional, disloyal and greedy."
What's going on? Join us as we unpack it.
First of all, what is Call Her Daddy?
Franklyn and Cooper started recording Call Her Daddy in 2018. According to a 2018 profile of the pair in the New York Post, they met during a vacation at the South by Southwest festival in Austin, Texas, that year. The two were at a bar "talking candidly about sex," and according to Cooper, they began to attract an audience. "People came up to us and said 'You need a show, because I would listen to this every day,' " Cooper said.
When Cooper and Franklyn returned to New York, they started recording Call Her Daddy together, and about a month later, Barstool Sports bought the podcast, and hired the two women as employees.
The show's description on Apple Podcasts says that listeners can "Follow along Alexandra Cooper and Sofia Franklyn as the duo dives into the explicit details of their life in NYC." It says the two "exploit the f*ck out of their crazy lives, making you feel a hell of a lot better about yours," and that "whether you want to finesse the f*ckboy, upgrade your dating profile, or learn how to give a mean blow job/eat p**** like a pro, they've got you covered."
In an interview with New York Times this week, Erika Nardini, the CEO of Barstool, said the show was a crown jewel in company's podcast business.
A quick aside: Did that 2018 New York Post profile result in some sort of bizarre feud between Cooper, Franklyn, and the paper by any chance?
In fact, it did. In January 2020, the Cooper and Franklyn said on an episode of the podcast that their experience doing the Post interview was miserable, claiming that the makeup artist on set "was pretty much seconds away from a blackout" and that they didn't like how the photographer made them take so many pictures next to urinals in a men's bathroom."We had just started Call Her Daddy. We were so naive," they said.
Later that week, Post writer Kristen Flemming wrote a scathing rejoinder titled, "Spoiled podcast 'fembots' attack NY Post — for giving them publicity," in which she calls the hosts the "non-dynamic duo," "uptight frauds," and says that the "lowbrow language" they use to describe their sex live, "makes Playboy letters look like Chekhov."
"At the end of their diatribe, they decided they were so burned by what can only be described as a flattering article that they have issued a moratorium on the press. Lucky US!" Flemming wrote.
Damn.
Okay back to the main question. Why isn't Call Her Daddy recording anymore?
In short, it boils down to a contract dispute. Cooper and Franklyn felt they had outgrown the Barstool Sports pond and wanted to find ways to expand their brands and income outside of the show, while the executives at Barstool felt that the hosts owed them for the platform and audience they had provided them early in their careers, and wanted them to honor the three-year contract they had signed.
Cooper and Franklyn posted their last episode together on April 8. The episode's subheading was "Kesha … The End," and the pair opened the show by playing a clip from "Praying," Kesha's 2017 single about overcoming adversity, and trying to free herself from the clutches of her contract with Dr. Luke, her former producer and mentor. "We're gonna let you guys interpret that however you want," they said after the clip played.
What ensued over the following weeks were fraught negotiations between the hosts and Barstool.
On Sunday, May 17, Barstool Sports founder David Portnoy posted an episode of Call Her Daddy called "Daddy Speaks" in which he got into the nitty gritty of the company's contract negotiations with the two women over the past two years, including their initial agreement which said Barstool owned the intellectual property of Call Her Daddy because, as Portnoy put it, "We don't wanna blow you guys up and then just have you walk out the door."
According to Portnoy, he knew the two women were shopping Call Your Daddy around to other companies, hoping to get more money for it. If they did this, he said, Barstool would sue them for breach of contract. During a meeting at his apartment several weeks ago, in the midst of the coronavirus lockdown, Portnoy says he offered the two a deal: a $500,000 annual salary, plus bonuses, and six months off of their initial three-year contract.
(News of the hosts' large salaries came as an unwelcome surprise to some fans who were annoyed that the women were raking in so much money while regularly making jokes about how poor they were.)
Cooper agreed to the deal, Portnoy said, but told him that Franklyn would never, in part because of her boyfriend, "Suitman."
Excuse me, who is "Suitman"?
"Suitman" is Peter Nelson, a 38-year-old HBO Sports executive who has been dating Franklyn for at least a year. Franklyn refers to him on the show as "Suitman," because he presumably wears a lot of suits.
According to Portnoy, Suitman has been helping Franklyn shop Call Her Daddy around, and was the one who advised her not to take Barstool's new deal.
Can I get Suitman merch?
Yes. Barstool is now selling a Call Her Daddy hoodie that says "cancel suitman" on the front.
So, Cooper and Franklyn are fighting too?
It seems like it. Portnoy claims that Cooper was willing to take the deal he offered them, but that Franklyn wasn't, and the disagreement has caused a rift between the two. On Tuesday, Franklyn posted several Instagram Stories in which she said she felt "betrayed" by Cooper for going behind her back to negotiate with Barstool.
"I am willing to do Call Her Daddy. I really am," Franklyn claimed. I just can't do it under the circumstances that she wants," she said, claiming that Cooper "is demanding that she controls the show."
"We are partners," Franklyn said of her and Cooper. "We have always been that way. We've always been 50/50, and so it's put me in an extremely tough position. So here we are."
Well, is the show ever coming back?
Yes. In a 30-minute YouTube video posted late on Friday, May 22, Cooper announced that she would be returning to host Call Her Daddy without Franklyn by her side.
"I am so fucking excited to get the show back on the air and continue to talk about the blow jobs and shitty one-night stands," the host said.
In the video, Cooper said that while she had been excited about the deal Portnoy offered them at his apartment, Franklyn and Nelson insisted they were being underpaid and eventually, the pair agreed to part ways.
On Instagram, Portnoy confirmed the news, saying he harbored no ill feelings for Sofia, but that Nelson is, in Portnoy's words, "the dumbest dude who ever fucking lived."
According to Cooper, she'll be posting her first solo episode of Call Her Daddy on Wednesday, May 27.
Why does all of this matter?
As Taylor Lorenz explains in the New York Times, this kerfuffle is an example of the conflict that arises when talent outgrows the companies that first elevated them:
Media companies have long acted as talent incubators, providing content producers name-brand recognition and access to a larger audience. But, as that talent builds a following on social media, the balance of power shifts. Often, talent no longer needs the media company to operate as a middleman, and many realize they could monetize their own platforms more effectively by themselves.
Suitman?
Suitman.