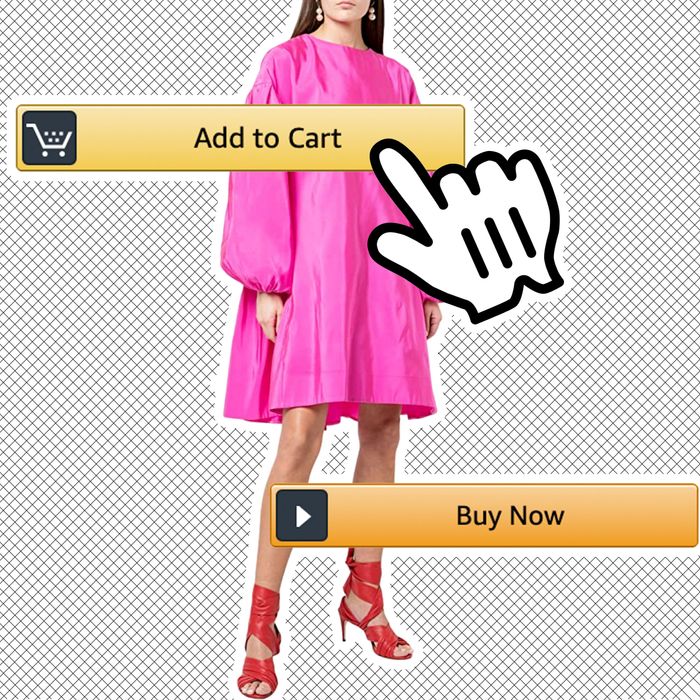 An Adam Lippes dress, $2,890, now available on Amazon.com.
Photo: Amazon
For retail in America, the current prospect is dim. New data released by the Department of Commerce on Friday showed a staggering, record-breaking drop of 16.4 percent in April. But for clothing-and-accessories stores in particular, the details are even bleaker. The two-month decline for them stands at just over 89 percent.
Luxury fashion is not the largest part of the clothing-and-apparel market — far from it — but luxury is hurting too. The high-end department stores are floundering (Neiman Marcus filed for bankruptcy this month; Barneys was sold for scrap last year); Net-a-Porter shut its warehouses and paused orders when the pandemic hit. Stores canceled orders or demanded new and impossible sales terms, leaving companies stuck with piles of produced but unsold merchandise and factory bills to pay without incoming revenue to pay them. If only there were a gigantic store-to-end-all-stores waiting in the wings to help. Wait just a minute — what's that? Up in the sky, there. It's a bird! It's a plane!
Nah. It's Bezos.
Amazon, currently valued at over $1 trillion, is a one-stop shop for just about everything. What was once a bookstore is now toilet paper, toenail clippers, consumer electronics, yoga mats, grocery delivery, an Oscar-winning film studio. But it has never quite been able to crack — and not always been interested in — high-end fashion. Apparel, yes; you can buy your Hanes T-shirts, your Levi's, or one of 100+ Amazon house brands (whether you realize they're house brands or not). But luxury fashion, whose sale depends, at least in conventional industry wisdom, not only on quality but on exclusivity, context, and intangibles like "storytelling" that swirl around and justify its high cost, did not see itself there.
"I did not ever envision that," said the designer Adam Lippes. But now he has. Lippes is one of 20 small-to-midsize American fashion brands that are selling on Amazon — many for the first time — as part of a new program finessed by Vogue in response to the ongoing COVID-19 crisis. The magazine reached out to designers to see how it could help and discovered that many were sitting on merchandise that they couldn't move. In short order, it had orchestrated Common Threads: Vogue x Amazon Fashion, a digital storefront for alumni of its Vogue/CFDA Fashion Fund competition.
Amazon offers its enormous platform and in some cases its logistics expertise; in return, it takes a small commission. (Participating designers would not say how much; optional use of its logistics comes with an additional fee. Vogue emphasized that the platform's primary motivation was to support designers, and Amazon Fashion also made a $500,000 donation to A Common Thread, the magazine, and the CFDA's industry-support initiative.) "We didn't think twice about doing this," said the designer Rebecca de Ravenel. "It's the right time to do it." Her pieces on the site start at $125; the most expensive is $1,495.
But while a handful of participating designers praised the store's curation and the Vogue of it all, the Amazon storefront still looks a lot like Amazon. Details and information on garments is scant; images are limited; and the display has all the glamour you would need when buying a nail clipper, but not much more. "Feels like a major Amazon roadblock if this is how they continue to showcase luxury product," Caroline Issa, the editor and street-style regular, tweeted. Storytelling, such as it is, is minimal. You can shop "editors', picks," in themes like florals, bohemian, and neutral, but the rarified air of luxury stores and even luxury e-commerce sites is harder to replicate. Amazon algorithms still fill in suggested items and browsing history at the bottom of every page. It probably says more about me than about the company, but mine are for Tupperware. "What I love so much about our buyers and our stores is that storytelling," said the designer Rosie Assoulin, who is not participating in the Amazon store. "What I love about Amazon is almost the generic quality. Which is the exact opposite of what I'd go to luxury sites for." She said she was interested to see "how they figure it out."
Still, Amazon coming for luxury fashion has an air of inevitability; how you take that inevitability is up to you. "Is there an emoji for hanging myself?" one noted independent designer wrote to me when I asked about Amazon and fashion. "Whether they like it or not," Vanessa Friedman wrote about the project in the New York Times, "designers, especially small ones, have no real choice." Skeptics pointed out that designer-clothing prices seem high for what we expect of Amazon, and pointed out that this initiative, borne on a raft of good intentions but also, it must be said, good press, was coming at a time when Condé Nast, Vogue's parent company, is announcing layoffs and Amazon is making headlines thanks to ongoing labor disputes.
Do designers have a choice? Those with well-oiled systems in place for direct sales may; Lippes said April was his own website's best month ever. But he was game to give Amazon a try. Like every participating designer interviewed, he said on the day of its launch that pieces had already begun to sell. "Within the first hour," said the designer Jonathan Cohen — which in his case included entry-level items like a $395 silk shirt but also a four-figure dress. (Amazon already owns Shopbop, a women's fashion site, and East Dane, its brother site for menswear. You can log in to each with Amazon credentials and have items shipped via Amazon Prime, but they maintain their own interfaces and sites, distinct from the Amazon mothership. Amazon does host a selection of Shopbop picks on its own site.)
It's hard to argue with the preeminence Amazon already has over any potential competitor. "I buy a lot of my beauty products from Amazon, my books …" said de Ravenel. "Amazon is a very important part of my life. My parents, who are a bit older, they buy on Amazon. Everyone buys on Amazon, because of the convenience. Convenience is something that is luxurious, in a way."
If convenience becomes the new luxury, then Amazon will be well placed to capitalize upon it, however imperfect its hastily assembled luxury-shopping platform might be. The moment demands speed, not perfection. Whether they would continue using Amazon going forward, the designers said, is for the moment an open question. "This whole experience makes you think of everything very differently," Cohen said. "I would certainly," Lippes told me, "never count Amazon out."