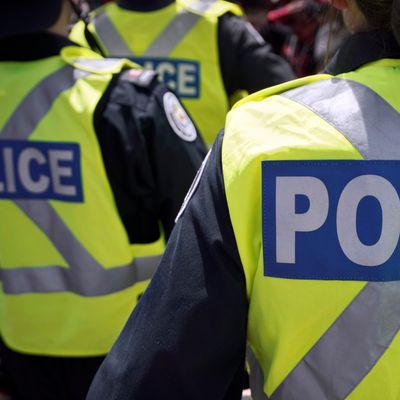 Photo: Icon Sportswire/Icon Sportswire via Getty Images
Police in Canada have charged a teenager accused of stabbing a woman to death in a massage parlor not just with murder, but with committing an act of terrorism, because the suspect (who cannot be named because he is 17) identified with "incel" ideology. The move to add the charge is being considered the first-ever instance of "incel terrorism," and could signal a wider shift in Canada and beyond to tackle an uptick in gender-based violent attacks.
The teenager is accused of barging into a Toronto massage parlor in February with a machete, killing 24-year-old Ashley Noelle Arzaga and injuring two others. At first, the suspect was charged with first-degree and attempted murder, but on May 19, authorities upgraded the charges to "murder — terrorist activity" based on his ties to the incel movement, a largely online, loosely connected group of men that blame women for their grievances surrounding romantic and sexual rejection. It is the first time that the incel ideology has been connected to the legal concept of terrorism, which is most often applied to religious extremists. It's only the second time, in Canada, that terrorism charges have been filed against someone for activities not tied to Al Qaeda or inspired by the Islamic State.
"Terrorism comes in many forms, and it's important to note that it is not restricted to any particular group, religion, or ideology," said the Royal Canadian Mounted Police when they announced the new charges. This is not the first time someone with ties to the incel movement has committed an act of mass violence in Canada in the past few years: In 2018, a man named Alek Minassian drove a van into a crowd, killing ten people, and told police that the attack was motivated by years of rejection from women. He also referred to himself as an incel on Facebook, and praised the actions of Elliot Rodger, the gunman who killed six people in Santa Barbara in 2014 and wrote a lengthy, misogynistic manifesto. Minassian's case is currently before the Canadian court, though he was not charged with terrorism.
Kent Roach, a law professor at the University of Toronto, told CTV News that the incel-terrorism charges could be groundbreaking, helping to shift the public perception of what constitutes a violent ideology. "There has been this sense that it's only terrorism if it looks like 9/11," he said. Terrorism charges, which are meted out by a country's government, also reflect who the state affords the most protection; extending that concept to the incel movement acknowledges that women are specifically targeted in these attacks. After Minassian's attack, Nicole Kobie wrote in Wired, "Because violence against women inexplicably isn't seen as terrorism, [incel] sites and their messages are viewed as mere curiosities, as though we don't know the danger of allowing hate speech."