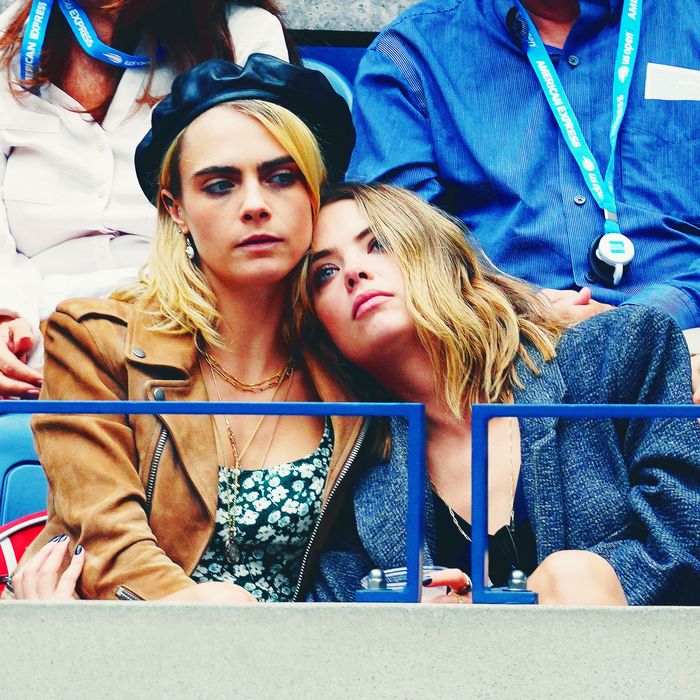 Cara Delevingne and Ashley Benson.
Photo: Gotham/Gotham/GC Images
There are few celebrity couples as endearing as Cara Delevingne and Ashley Benson. Their love for each other, which they long hid from the paparazzi, seems genuine; their pet name for each other ("squish") is cute. These are among the reasons I have particularly enjoyed following the evolution of the pair's nearly two-year-long relationship — and why I'm consequently dispirited over recent reports.
Yes, according to the tabloids, Delevingne and Benson, the best celebrity couple, have called it quits. Multiple sources told People that the breakup happened sometime in April — almost two years after they were first spotted leaving a Lauryn Hill concert in New York City, when rumors of their relationship started to swirl.
"Cara and Ashley always had their ups and down before, but it's over now," one source told People, elaborating, "Their relationship just ran its course." As of now, neither of the women's representatives have commented, but if it's true, it's not too surprising: Way back in December, Delevingne tweeted — and then promptly deleted — a tweet reading, "Me and Ashley broke up."
For the most part, it seems like they're doing okay. According to People, Delevingne has been "spending time with friends," including Margaret Qualley and Kaia Gerber, though it's unclear what exactly that entails. (We're not breaking social-distancing guidelines, are we?) Meanwhile, Benson has been posting sultry selfies to Instagram — classic post-breakup behavior.
So who do we think got to keep the sex bench?