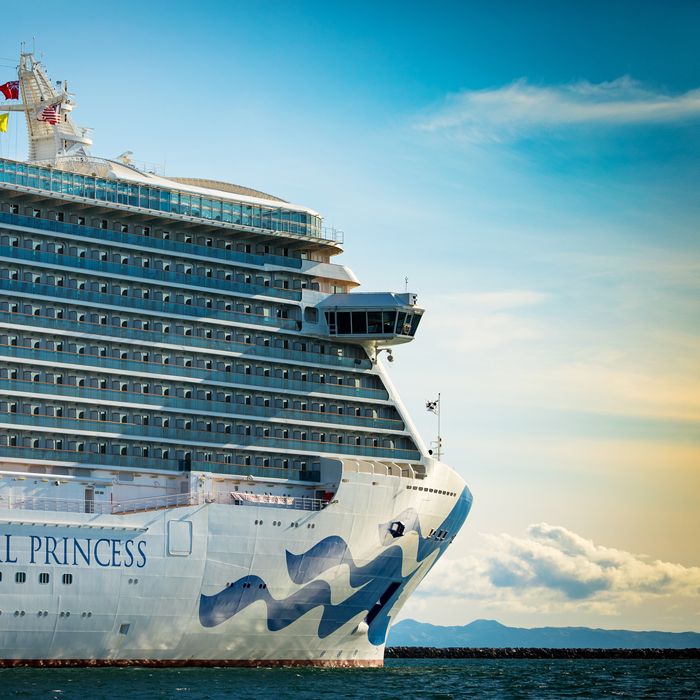 Eh, eh?
Photo: Bloomberg via Getty Images
"On a cruise ship" may well rank among the very last places on Earth you'd like to be right now, even if two months of nearly nonstop confinement in your 400-square-foot apartment has you ready to fight your refrigerator. During the coronavirus pandemic, it's been confirmed that cruise ships are floating petri dishes, their conditions — all close quarters and communal spaces — primed to exacerbate outbreaks of deadly disease. And as the nation charts a potentially premature path toward reopening, Carnival Cruise Line has announced that its ships will be hitting the high seas again come August.
Carnival's plan to "phase-in service" begins with eight ships launched from ports in Galveston, Texas; Cape Canaveral, Florida; and Miami, starting August 1 — just days after the CDC's no-sail order expires on July 24. A number of its other cruises (in Australia, from Seattle to Alaska, from Vancouver to Hawaii) remain canceled. The company said in a statement that it is "committed to supporting all public health efforts to manage the COVID-19 situation" and "taking a measured approach" to resuming its trips.
Nonetheless, it's a bold move, especially considering that Carnival's response to the pandemic just became the subject of a congressional inquiry. According to one Bloomberg report, the corporation fumbled official warnings about the coronavirus, resulting in over 1,500 infections and at least 39 deaths across nine Carnival ships, the now-notorious Diamond Princess and the Grand Princess included.
Public-health officials fear that without a vaccine, a second wave of the coronavirus could hit sometime this fall — or possibly earlier, if social-distancing guidelines ease too soon. In a statement to NPR, the CDC that it is "closely monitoring the situation on cruise ships while we review the cruise lines' plans to prevent, detect, contain, and respond to COVID-19 during the No Sail period. At this point in time, we do not have enough information to say when it will be safe for cruise ships to resume sailing," although the agency "will continue to work with cruise lines to ensure all necessary public health procedures are in place when cruise lines do begin regular sailing."
Meanwhile, about 100,000 global cruise-ship workers remain stranded at sea, trapped in quarantine due to coronavirus restrictions that make it impossible for them to return home.