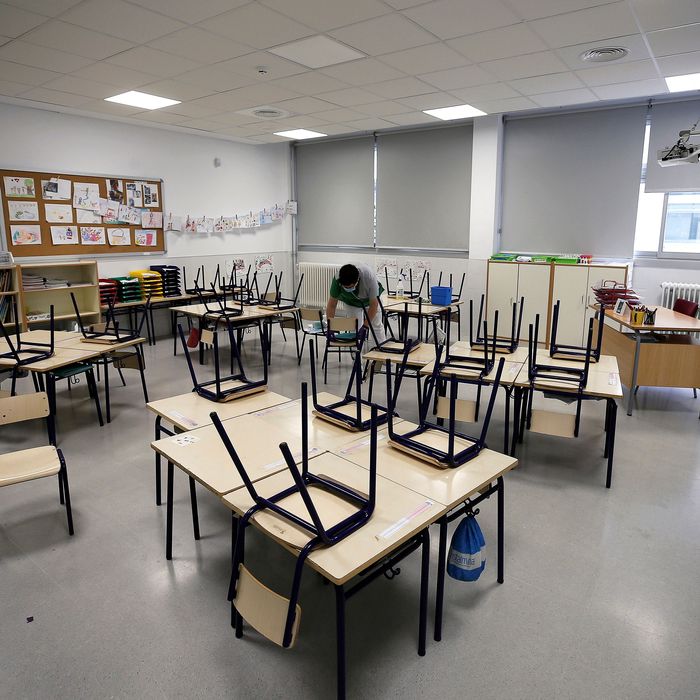 School classroom.
Photo: Manuel Bruque/EPA-EFE/Shuttersto/Manuel Bruque/EPA-EFE/Shutterstock
As students across the country wrap up their final virtual lessons and teachers post final exams online, the Centers for Disease Control and Prevention is thinking ahead to the next school year and how to safely move education back into classrooms.
On Tuesday, the agency released guidelines for reopening K-12 schools. To maintain a healthy environment, the guidelines recommend that staff members and students should wear cloth face masks "as feasible," desks should be spaced six feet apart, and guardians should pick up and drop off students in staggered locations or times to limit contact. In general, the CDC recommends much less sharing of items, especially those that are difficult to clean, and they also suggest that groups of students stay with the same staff member as much as possible and avoid mixing groups.
In the same vein, the CDC also recommends that "communal use shared spaces" be closed, which includes dining halls and playgrounds. For meals, the guidelines suggest that children should pack their lunches or that the school should provide "individually plated meals in classrooms."
The CDC also outlines protocol for dealing with potential exposure to coronavirus if someone in the building gets sick. If someone begins exhibiting coronavirus symptoms while on school premises, the CDC says they should be moved to an isolation room, and any areas that person touched should be closed off for at least 24 hours, and then cleaned and disinfected.
While highly recommended, these guidelines are nonbinding, the CDC emphasizes, and "implementation should be guided by what is feasible, practical, acceptable." Additionally, "the considerations are meant to supplement — not replace — any state, local, territorial, or tribal health and safety laws, rules, and regulations with which schools must comply."