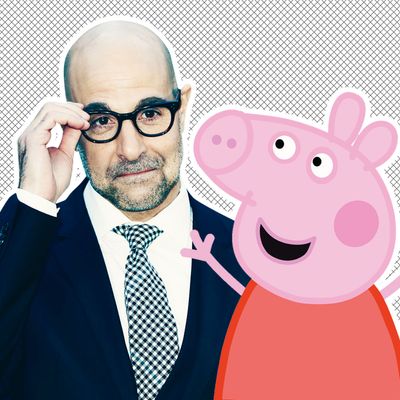 Photo-Illustration: Getty Images, Entertainment One
On Friday, the Atlantic published a lockdown diary from actor and erotic cocktail maker Stanley Tucci. In it, Tucci walks readers through a day in the life of his family's London home, and all of the cooking and child-wrangling involved. The piece, which includes four recipes, an account of Tucci's toddler kicking him in the groin, and several scenes of him playing on a trampoline, can only be described as "maddeningly charming." Until the end, that is, when Tucci takes a jab at another U.K.-based megacelebrity: Peppa Pig.
After dinner, Tucci says, his two youngest children are allowed to watch television. The 5-year-old watches a show about dragons, and the 2-year-old watches Peppa Pig, the wildly popular British children's series about a 4-year-old anthropomorphic pig named Peppa, who may or may not be seven feet tall. Of the show, Tucci writes in an aside:
(There is no question that my wife and I, along with many parents, wish the creators of that irritating animated swine a slow death, but they are so rich, they have probably purchased immortality. And yet at the same time, said pig allows us respite for half an hour or so every day. May God bless those creators.)
Okay, wow.
This is the latest in a series of indignities Peppa has had to endure over the past year and a half. First, she was accused of sexism after she scoffed upon hearing that Mummy Pig was dressed as a "fireman." "Come on @peppapig," the London Fire Brigade wrote on Twitter. "We've not been fireman for 30 years. You have a huge influence on kids & using out of date stereotypical gender specific wording prevents young girls from becoming firefighters. Join our #Firefightingsexism campaign."
Peppa managed to bounce back from the scandal, though, and last July, she released her first album, aptly titled My First Album, only to have it snubbed by the Recording Academy come Grammy season.
In December, it seemed like Peppa might finally catch a break. In a Twitter exchange, grime artist Stormzy floated the idea of collaborating with Peppa on a song. "How we gonna do this?" he asked. "Better ask Daddy Pig," Peppa responded. Daddy Pig apparently said no, because so far, there's no word of a Peppa-Stormzy collab in the works.
And now, on top of all of that, to be called an "irritating animal swine" by one of the most beloved actors in the world?! It all seems like too much for a young, enormous pig girl.
Peppa has yet to respond to Tucci's comments, but she did post a cheeky "imagined vs. reality" video on Twitter about how she and her family have been holding up during lockdown.