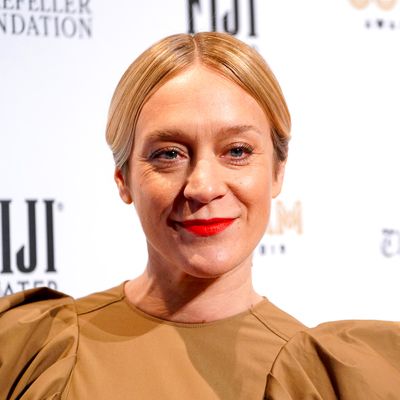 Congrats.
Photo: Jemal Countess/Getty Images for IFP
Chloë Sevigny has given birth to her first child: reps for the actor — the Cut's May cover star — have confirmed that her baby has arrived, and "all are happy and healthy."
So far, the model-slash-director-slash-designer has not shared any details about her infant's name or sex or exact birthday. We've known since early January, however, that a very cool baby was on the way, after Sevigny was seen strolling around New York City with a baby bump. Shortly thereafter, she posted a portrait by Jim Jarmusch to Instagram: Tagged "Baby on Board," it featured Sevigny lounging on a small velvet couch, belly bared. And then, on Monday, Sevigny and her boyfriend, 38-year-old gallery director Siniša Mačković, were spotted walking with their newborn in NYC, both of them wearing gloves and masks.
The 45-year-old pierogi enthusiast has been isolating with Mačković in her Manhattan apartment during the coronavirus pandemic. Speaking with the Cut three weeks before her due date, Sevigny said she was passing the time "watching old Hollywood classics for escapism," FaceTiming with friends, and watching Governor Andrew Cuomo's daily press conferences. "I'm very excited to … dance at The Pyramid after the baby's out," she said, when asked what she'd like to do with 24 hours free of social distancing guidelines. "That frivolous revelry that we used to participate in… Just being able to let go. I can't wait for us to go dancing and sing our hearts out and cry and twirl about."
Cheers to the new parents.