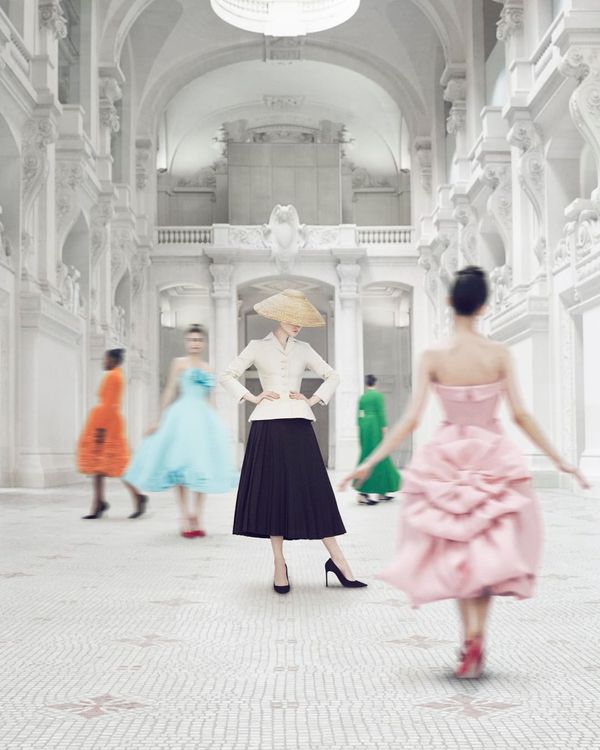 Balmy spring weather usually calls for long walks, happy hours, and museum visits, but those activities are at a temporary halt. Still, there's some good news: Dior has invited us all on a guided tour of the brand's "Christian Dior: Designer of Dreams" exhibition at the Musée des Arts Décoratifs in Paris, and we can do it from the comfort our homes.
When the exhibition debuted in 2017, people waited in lines that flooded out onto Rue de Rivoli. The show accumulated almost a million visitors in its seven-month run. But now we get to walk right in, see the construction of the project, and have fashion curators guide us through the finished product with 70 years of the brand's history.
The documentary begins with Dior himself and his revolutionary "New Look" following World War II, then moves chronologically through his successors, including Yves Saint Laurent, "punk couturier" John Galliano, and Maria Grazia Chiuri. "We are speaking about women," she says. "My dialogue is part of my time. I think it's very important to express that we are all different."
For lovers of fashion and history, it's deeply satisfying to witness these designers' creativity in the form archival haute couture dresses, rare photographs, original sketches by Christian Dior, and various objets d'art that draw a connection between the art and fashion worlds.
So sit back, relax, imagine you're in a dark museum screening room, and enjoy "Christian Dior: Designer of Dreams" below.