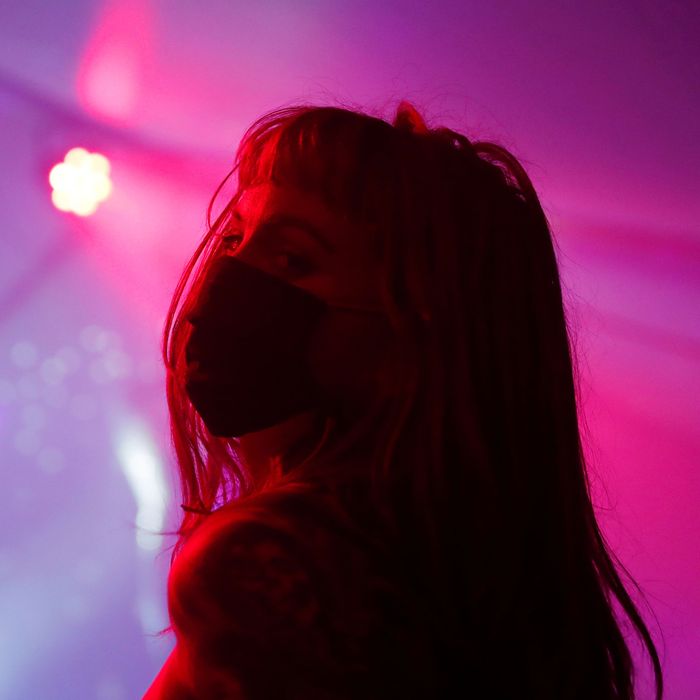 Photo: Terray Sylvester/REUTERS
"What the hell am I going to do?" That's the question dancers at Portland's Lucky Devil Lounge asked when the strip club was forced to shut down on March 16 due to Oregon's stay-at-home order. Perhaps no other type of small business has been hit harder by social-distancing guidelines than one that typically involves close contact between employees and patrons. The clubs are ineligible for assistance from the federal government's Paycheck Protection Program, which asks applicants to confirm they do not "present live performances of a prurient sexual nature." And though Lucky Devil is beloved by many of its dancers, who say it is an environment where they are treated like family, it's still a strip club: Dancers don't make an hourly wage but rely on tips. They don't have benefits or paid time off. They are gig workers.
Owner Shon Boulden immediately pivoted the club's in-house kitchen to delivery, but he came up with an additional solution: have the dancers deliver the food, with a show, which he initially called "Boober Eats" (now it is "Lucky Devil Eats"). A few weeks later, he added a drive-through pickup option, in which patrons can get their food while watching dancers on either side work the poles. If it's busy, they can stay for a song, but if not they can stay longer or request another for an additional tip. Both the delivery service and the drive-through, called "Food 2 Go-Go," cost an additional $30; the club has instituted intense sanitation protocols with masks, gloves, and even temperature checks.
The spectacle makes for a bright spot amid the coronavirus closures that have brought the entertainment and food-service industries to their knees. But the situation is still precarious. Dancers are scraping by; several are not personally eligible for or have not received government stimulus. "This quarantine has taught me what I already learned as a sex worker and as a parent: to not rely on the government for protection or resources," wrote Elle Stanger, a Lucky Devil dancer and writer, in an essay for HuffPost. The employees at Lucky Devil are now delivering food like other essential workers being referred to as "heroes," though they have even less protection than many of their corporate counterparts.
The Cut spoke to four Lucky Devil dancers about their new normal:
Brodie
I've lived in Portland almost 12 years, and I've worked for Lucky Devil and Devil's Point, the sister club, for about 11. When I woke up and heard that our shift that night was going to be the last one, it was absolutely terrifying. I was inconsolable. I was like, What the hell am I going to do? I have my OnlyFans, which I make a little bit of income off of, but it's not anywhere near what I make dancing. No stimulus check because I'm a sex worker and an independent contractor. I don't get shit. My primary partner owns a tattoo shop, so they are shut down. He didn't get one either.
Then Shon, my boss, was joking around with this idea for deliveries, then the go-go, and it took off. Most people are ecstatic. As soon as they open the door, huge smiles. This is the only live entertainment they're really getting right now, us standing six to more feet away, jiggling around a little bit. We've had very few instances of people being shitty, but 99.9 percent of the time it feels really safe. And people are so thankful. It makes me putting my life on the line worth it.
We split all the delivery fees and the tips go into a pool, and then we have to split it between all the dancers and all of the drivers (who usually work as our security guards). Saturday was my birthday, and we had a really good night. I ended up making about $140-something. But on a slow night we can make as little as $30. It's really up and down.
I'm still scared of getting sick. But I just stay on top of changing the gloves and the hand sanitizer and the social distancing and masks — we're so hard-core about protocol. Just because we're running around in pasties and cute little booty shorts doesn't mean that we're not essential. It doesn't mean that we're not on that same level as Domino's or wherever. I'm just trying to take it day by day. The future is so uncertain right now.
Zuli
I didn't want to be the first person to be part of the delivery service. But I saw they were taking care of the protocol, wearing gloves, wearing masks, cleaning everything. They really stepped it up. It made me nervous. I'm also a visual merchandiser, so I dressed mannequins and things like that, but stores are closed. I got a $1,200 stimulus check, which obviously doesn't even cover my rent.
We try and bring a little party during every delivery to you. All the security guards turned into drivers, and they walk us up to the house, and all the dancers will be shaking our tits and shaking our butts. It's all about energy. You would think that it would just be older men that came to the club. But sometimes it'll be friends, sometimes it'll be family, other strippers that want to support the community. We went to a security guard's mom's house. She was so into it. We played "I'm N Luv (Wit a Stripper)," by T-Pain.
A lot of the people that have been ordering food are regulars. They can tip us either on the app when they order the food, or they can tip us in cash. We bring a little bag up to the door. We'll give them three to five minutes of conversation, seeing how they're doing. Part of the thing about being a stripper, a lot of the guys just want to go there and talk to the strippers because they don't want to admit to the fact that they need counseling. We ask them, What's wrong? So it's kind of like the same idea. Every time I leave, they are always in a better mood than when I got there. That's good.
Tox!c
I've been in Portland for 17 years, and I've worked at Lucky Devil for a long time. I still work a couple shifts when the club is open, but I've mainly been shifting gears and focusing on my music. Being an independent contractor and a gig worker, literally every single one of my gigs is canceled. I have no venues for performance. I can't do burlesque, I can't strip when I need to. I have no options. I was there from the first day of the delivery service. Shon called me and said, "It's not stripper money, but you know, it will be some income."
I like dancing more than the delivery because I'm a performance artist. I'm the outrageous girl of the group. I have a shark costume, a narwhal costume. That's the costume I wear when I do my singing performances and at Stripperoke. Everyone's really liking our apocalyptic cyberlooks. Everyone's got these crazy gas masks. It's bringing hope to my life through the pandemic. When I'm not doing this, I'm at home doing as much as I can do to hustle with my modeling work and stuff like that. I'm not making rent with this, but I can buy food.
I hope that this all helps destigmatize a lot of the negative notions toward the club performers. I do some of the social media for Lucky Devil and most of the messages we've received are very positive. People are like: "I'm not usually a strip clubgoer, but I have to applaud how innovative this is, how you guys are really getting through this pandemic, not all heroes wear capes." We've gotten some people who've rolled through who are health-care workers, on the front lines, really putting everything out there. We tell them how appreciative we are and it feels good to give them an escape as well as send some happiness.
Sedona
At 18, I moved down to Portland to pursue modeling, which turned quickly into nude modeling and fetish/kink shoots. I discovered my love for sex work and started webcamming. Currently, my only other work is curating my own adult content from home. I do a lot of rope- and fetish-based themes. When there isn't a pandemic happening, I do also have a tattooing license.
Finding out the club was closed was heartbreaking. This is my main source of income, and to have it be gone, just like that, was pretty surreal. I had to apply for food stamps for the first time. Never at all would I have thought I'd be delivering food or considered an essential worker — especially not delivering food topless, but life is full of surprises like that. It's certainly gonna make for a great story later on in life, looking back to say I got to do both.
I swear the laughter and joy we are spreading is keeping us all happy and healthier. All I wanna do is keep bringing people safe titties, smiles, and love. It's fun getting to still play on the pole and keep my strength up. My favorite costume was my take out on a hellhound: leather chest harness, moon pendant, a shiny black fetish wolf mask with my black surgical mask. Everyone was loving that all night long.
Interviews were edited and condensed for length.