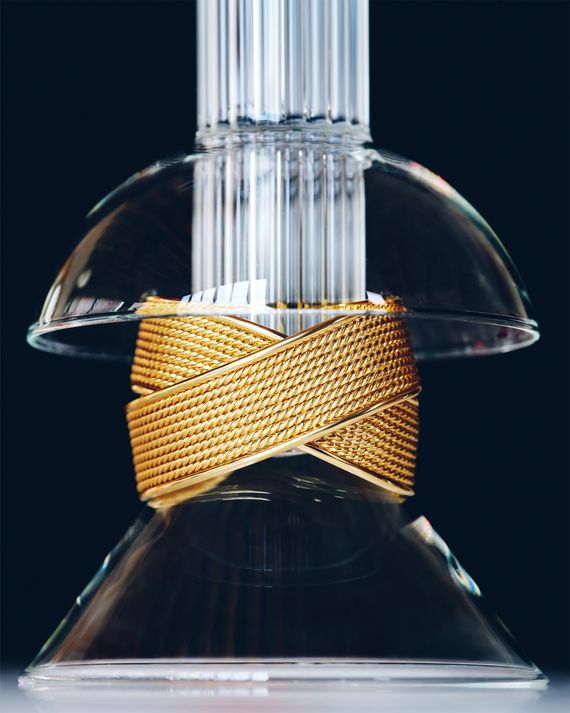 David Yurman is a New Yorker.
He grew up on Long Island and went on to become a local sculptor, working on the the railings of the promenade in the David H. Koch Theater at Lincoln Center and the giant cast-iron eagle in front of the International Trade Court in Manhattan. Later, he would marry the painter Sybil Kleinrock, who would go on to become his co-creator, collaborator, and business partner. They got into fine jewelry through their fine-crafts company, Putnam Art Works, which was located in the town of Putnam Valley upstate.
The jewelry design that put David Yurman on the map was the cable bracelet, a twisted piece of metal that looks like solid rope with gemstones on each end. It was a recognizable design that needed no logo and one that has been adapted over the years to become a timeless signature for the brand.
The Origami Cuff, pictured above, made its debut in 2019 to coincide with the brand's new 57th Street flagship in New York. It takes notes from the cable bracelet but was also inspired by the Yurman family's love of Japanese art and tradition, specifically origami's role in special occasions. Like the paper figurines, the cuff is sturdy yet delicate and lightweight.
Yurman takes inspiration from around the world, but his roots are still in New York. In response to the recent pandemic, The Yurman Family Foundation committed $1 million to COVID-19-related causes across America, starting with its hometown.
"Sybil, Evan, and I were all born in New York City. It's our home—it's creative energy courses through our veins," said Mr. Yurman in a statement.
As for the cuff bracelet: "Like sculpture, origami is an art form that's all about metamorphosis," he said. "A simple sheet of paper with endless possibilities."
The David Yurman Origami Crossover Cuff Bracelet in 18-karat gold is available for purchase online, here.