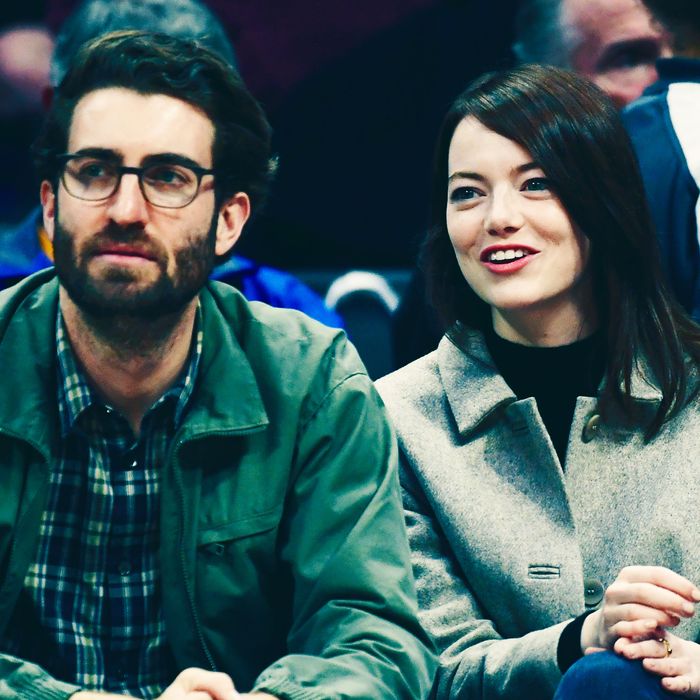 Dave McCary and Emma Stone.
Photo: Kevork Djansezian/Getty Images
It looks like we have our second secret celebrity wedding in the age of social distancing: Emma Stone has tied the knot with her nice-seeming fiancé, Dave McCary, a segment producer for Saturday Night Live — or so her fans are convinced.
The evidence is certainly compelling. Last week, Stone went on Reese Witherspoon's YouTube channel to discuss anxiety during the coronavirus, and fans noticed that her wedding-ring finger no longer bore her pearl engagement ring but instead a simple gold band — classic secret-wedding speculation fodder. And then she provided the world with even more cause for speculation. Later on in the show, a mental-health expert made a joke to Stone about marrying an anxious man, and she responded, "Thankfully, I didn't do that." Direct your attention to the tense of her verb: didn't.
While neither Stone nor her fiancé (husband?) have commented on the speculation, there's very little reason to doubt it. Aside from all the recent convincing evidence, tabloids have reported that Stone and McCary had plans to get married in March, as in two months ago, before coronavirus upended life as we know it. Also, the secret wedding makes sense with their relationship timeline: They've been dating for more than three years, and engaged for five months. Sure, they could've decided to hold off on the ceremony until a later date, but who knows when we'll be permitted to gather in large groups again. Emma Stone, let us reiterate, in general we're happy for you.