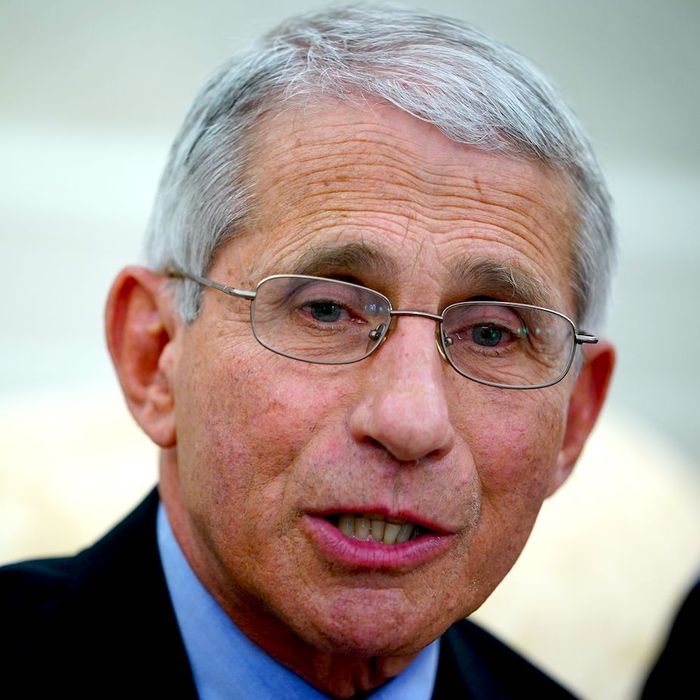 Dr. Anthony Fauci.
Photo: MANDEL NGAN/AFP via Getty Images
Dr. Anthony Fauci, noted immunologist and surprise target of the nation's isolation horn, has entered "modified quarantine."
On Saturday, Fauci — a member of the U.S. Coronavirus Task Force and head of the National Institute of Allergy and Infectious Diseases — announced that he and CDC director Robert Redfield would isolate for two weeks after coming into "low risk" contact with an infected person in the White House. He did not name the person who potentially exposed him, but COVID-19 cases within Donald Trump's administration have been on the uptick in recent days.
Last week, one of the president's personal valets tested positive for the virus, and on Friday, Trump confirmed that Katie Miller, the press secretary to Vice-President Mike Pence, had also tested positive. Her boss being the technical head of the coronavirus task force, Miller is said to attend the meetings regularly. Speaking about Miller's diagnosis, one senior administration official told Politico that, "In the span of hours, the coronavirus task force was likely exposed, the vice-president was definitely exposed, and a top health official can't come into the office. It's a textbook case of why we can't rush to reopen."
Fauci told CNN that his "modified quarantine" would largely mean working from home, although he might occasionally relocate to his office at the National Institutes of Health, provided no one else is there. He will wear a mask the whole time and undergo testing every day, and he will only go to the White House or Capitol Hill if summoned — taking all "appropriate precautions" if that's the case. He reportedly still plans to testify at an upcoming Senate hearing about the coronavirus, although it's not immediately clear if he'll appear in person or via video call. Redfield and Food and Drug Administration commissioner Stephen Hahn, who is in full quarantine after coming into contact with an infected White House staffer, will teleconference into the hearing.
According to CNN, the White House is now taking "strong precautions" to mitigate the spread of the coronavirus. Those precautions reportedly include "heightened levels of cleaning" for "high-touch points" and questioning employees about any potential symptoms before allowing them to enter the building; they still do not include making everyone wear masks.