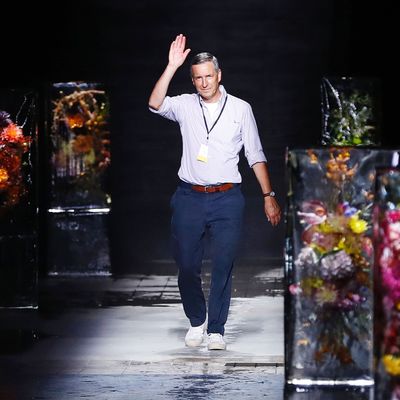 Dries Van Noten.
Illustration: PATRICK KOVARIK/AFP via Getty Images
On Tuesday afternoon, a group of designers and retailers led by Belgian designer Dries Van Noten released an open letter to the fashion industry calling for a fundamental reassessment of its operations. Signatures on the letter run the gamut of industry players big and small, including leaders from Nordstrom, Bergdorf Goodman, and Selfridges, plus designers like Tory Burch, Joseph Altuzarra, Marine Serre, and Gabriela Hearst, just to name a few.
Despite the industry's state of uncertainty, the group is viewing this time as an "opportunity for a fundamental and welcome change that will simplify [their] businesses, making them more environmentally and socially sustainable and ultimately align them more closely with customers' needs."
The letter, created after several Zoom calls, addresses two issues: the timing of collection deliveries and discounts. Currently, both poorly reflect real-world seasons for consumers, brands and stores. Their suggestion is logical: move the autumn/winter season back to winter (August through January) and the spring/summer season back to summer (February through July). That way, discounts would be taken at the end of each season, in January and July, allowing for more full-price selling. But the move could also mean the end of major sales like Black Friday, according to Business of Fashion.
"It's not normal to buy winter clothes in May," Van Noten told Vogue. "It's not normal to work with the design team on a collection that hits the shop floor one month and a half before it's discounted at 50 percent." And while the calls for change may seem daunting, some have already been implemented due to pandemic-related shutdowns — digital showrooms are taking place, and fall collections are actually hitting store shelves in the fall.
Ultimately, the goal is to look out for the planet — less unnecessary product and waste, less waste in fabrics and inventory, less travel by pivoting to digital showrooms, and rethinking fashion shows. The letter concludes, "Working together, we hope these steps will allow our industry to become more responsible for our impact on our customers, on the planet and on the fashion community, and bring back the magic and creativity that has made fashion such an important part of our world."