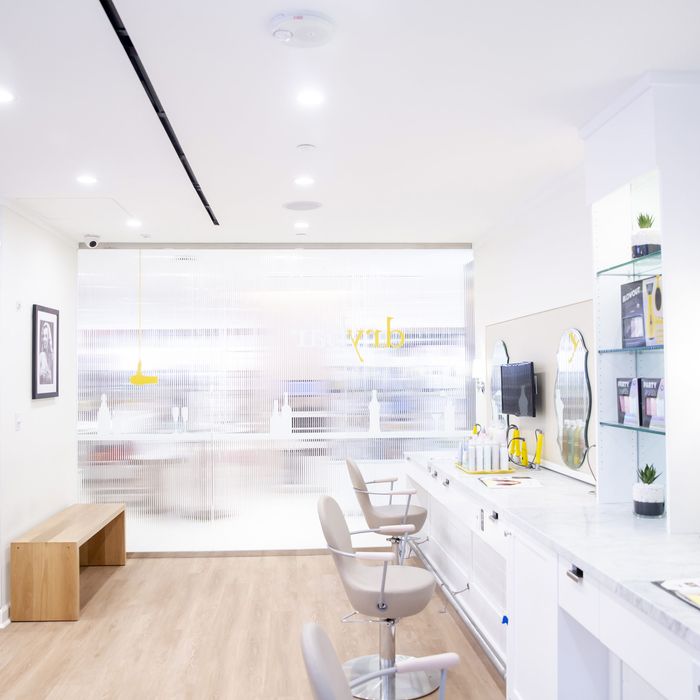 Photo: Mark Abramson/Bloomberg via Getty Images
Perhaps you were wondering about the state of professional blowouts in this era of social distancing. We now have an answer: Drybar, the salon that practices the mantra of "no cuts, no color, just blowouts," has begun to reopen a fraction of its hundred-something locations after temporarily closing all of them on March 18 due to the coronavirus.
The reopening of select salons in select states officially began last Friday and will continue to roll out through June 1. Over the next few weeks, suspiciously shiny hair may be spotted in Arizona, Colorado, Georgia, Tennessee, Florida, Missouri, Texas, Oklahoma, Indiana, Kentucky, Ohio, and Wisconsin. Drybar regulars located elsewhere must forge on without the assistance of skilled hands wielding yellow tools for now.
But getting your hair washed and blown out by a pro will now come with several changes, starting 12 hours before your appointment. First of all, that appointment must exist: Walk-ins will not be accommodated. Next, you must complete a prescreening, digital questionnaire to ensure you're not exhibiting symptoms of COVID-19 or known exposure, both of which will result in your appointment being canceled.
Waiting areas will no longer be available, so emails and texts will instruct clients on what to do and when. Upon arrival, customers will have their temperatures checked with a noncontact digital forehead thermometer; employees will undergo the same process before shifts. Everyone, both behind the stringently disinfected seat and in it, is required to wear facial coverings at all times. If you show up with a mask that doesn't allow for hairstyling while worn, you will be given a disposable one that anchors to your ears, leaving the back of your head unobstructed.
Use of every other chair in the salon and a "no plus-ones" policy will be enforced to ensure social distancing, and there is absolutely no non-hairstyling-related touching — you can greet your stylist with a curtsy or a wave. And last, but certainly not least, Drybar's beloved complimentary beverage service will be discontinued for the time being, so you'll have to plan your Champagne consumption accordingly.