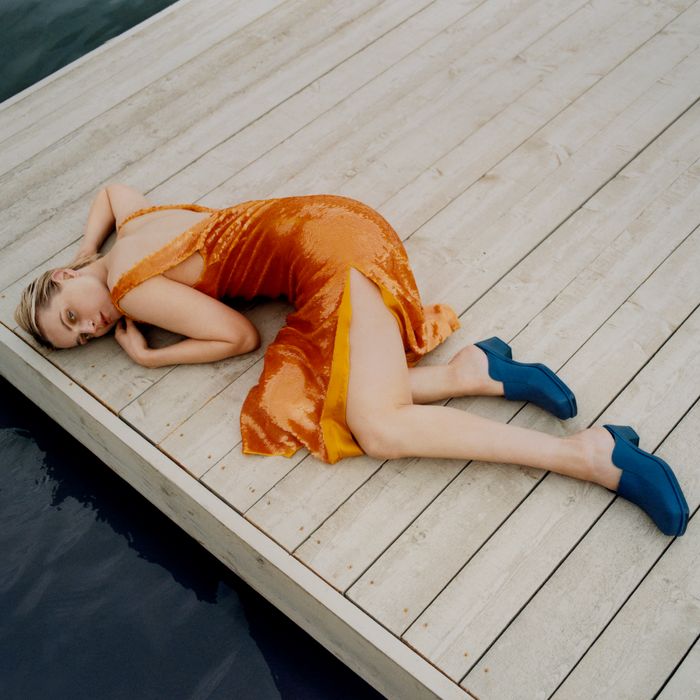 Fashion always aims to offer a vision of the future, and in the case of Eckhaus Latta's new spring 2020 campaign with Ugg, designers Mike Eckhaus and Zoe Latta are either freakishly clairvoyant, or really lucky — or both.
Inspired by American landscape photography, the duo ventured out to Lake Piru in Calfornia's Los Padres National Forest in December for the shoot. Photographer Zoë Ghertner captured models wearing the collection while floating on a square dock in the middle of nowhere, evoking a sense of isolation, vastness, and maybe a little melancholy. They had no idea such feelings — and the image of someone curled up the fetal position in a square box — would come to define the following year.
"Our art director made fun of us because the models are a woman with blonde hair and a guy with brown hair; it's like Mike and I, alone," said Latta from her parents' home in Northern California, where she recently relocated. Eckhaus, meanwhile, was still isolating in his Brooklyn apartment when we spoke.
As for the collection, Ugg has coincidentally become one of the more popular shoe brands during the pandemic, with nonessential workers mostly relegated to their house slippers. Eckhaus, who's not normally a "slipper person," said he's been wearing last season's square-toe shearling slides "every single day" since the shutdown began.
When Eckhaus Latta debuted their new Ugg collection during New York Fashion Week in February, though, it became clear that the designers were, once again, taking the comfortable shoe brand to new heights. This season, heels are now five-inch platform clogs, and slides more Western-inspired with a cow hair upper. They've also introduced sneakers. "Honestly, I was a little nervous about some of the shoes at the beginning of the pandemic," said Latta. "Like, who's going to buy five-inch platforms when we're all told to be at home? But now, I really want a pair. I'm ready to dress up at home."
"You can still wear five-inch heels when you're only in 500 square feet of space," Eckhaus added.
This is Eckhaus Latta's first drop since the pandemic, and the designers, who are used to being on opposite coasts, are still working on their main line as well, although with a different mind-set and pace. "Emotionally, this has been insane, but we haven't wanted the company to have to go under that duress," said Latta. "It's about slowing down and taking each day as it comes."
In short, they're following their instincts, which has worked out for them so far. "If you want to hire Eckhaus Latta to predict the future for your company, please do," Eckhaus joked.
Below, a look at the new Eckhaus Latta x Ugg collection, which ranges in price from $350 to $475, and is available at ugg.com and eckhauslatta.com.