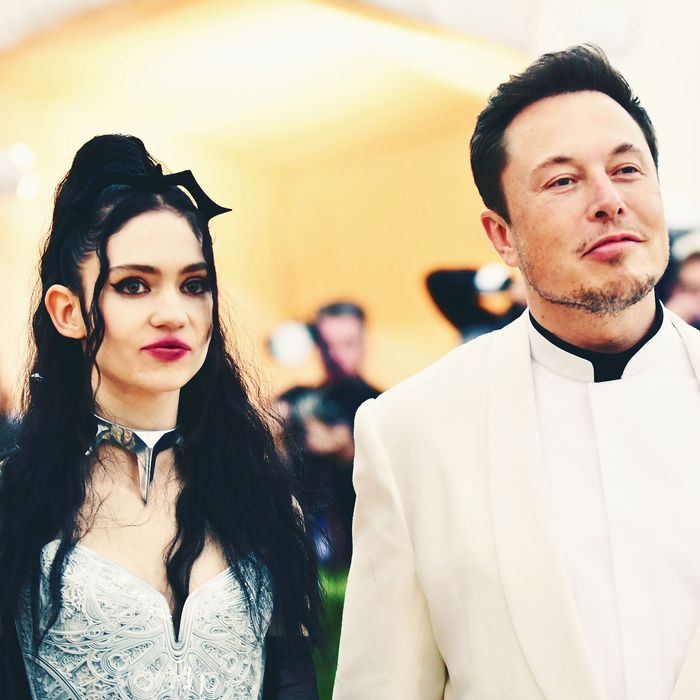 Photo: Charles Sykes/Invision/AP/Shutterstock
This past weekend was the weekend I began asking myself, "Isn't Grimes due to have her baby soon?" And indeed she was. On Monday, four months after a pregnancy announcement that involved a Photoshopped fetus overlaying Grimes's belly and much subsequent speculation, the 32-year-old singer gave birth to her first child, a baby boy, with her billionaire boyfriend and SpaceX CEO, Elon Musk, 48, who confirmed the blessed event by tweeting "Mom and baby all good."
On Tuesday, Musk tweeted out a picture of himself wearing an "Occupy Mars" T-shirt and holding his newborn son.
And here's that incredibly cute baby again, this time with an Instagram tattoo filter.
At the request of a Twitter user, Elon revealed on Monday night that the baby has been given the name X Æ A-12 Musk, which recalls something my ninth-grade math teacher once told me or a flavor of luxury scented candle. Of course the whole name is possibly in jest … I find it difficult to tell when Elon is being funny!
The couple has dated for about two years, and news of their impending child came out in January. Musk has five sons (twins and a set of triplets) from his previous marriage to Justine Musk. Grimes wrote in the caption of an Instagram post in January that she "had some complications early on, a decent second trimester" but that 25 weeks into her pregnancy she was "starting to hurt everywhere."
The news of Elon and Grimes' son arrived just as Bloomberg reported that the billionaire put two of his California homes up for sale after recently tweeting last week that he plans to sell "almost all" of his physical possessions. The homes are listed at a combined $39.5 million. On Monday, Deadline reported that Musk and Tom Cruise are in talks to film a movie in outer space.
Best of luck to X Æ A-12 Musk! Or whatever his name is!