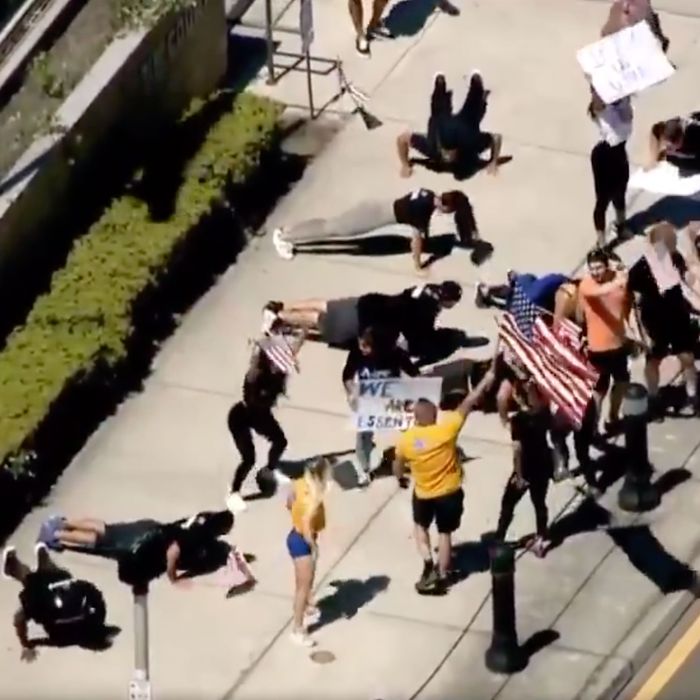 Photo: Courtesy of @WFLA/Twitter
As the state slowly starts to reopen amid the coronavirus pandemic, a group of 30 or so protesters gathered outside a courthouse in Clearwater, Florida, to demand gyms in the state be reopened, only to prove, over the course of their protest, that they can exercise anywhere, actually.
"They don't think it's right that they can't go work out," a reporter for Florida's WFLA news station said in a clip on Twitter. "They want the gyms to reopen in the area. Earlier they were all down doing push-ups, squats and stuff, just to show their support for gyms."
Damn, sounds like they got a great workout, even with the gyms closed.
Last week, Florida governor Ron DeSantis ended the state's stay-at-home order, which had been implemented to slow the spread of the coronavirus, and began to implement Phase One of his three-phase plan to reopen the state. Phase One allows restaurants to reopen with full outdoor seating and indoor seating at 25 percent of building capacity. It also permits on-site sale and retail businesses to operate with 25 percent occupancy. (The order doesn't apply to Miami-Dade, Broward, or Palm Beach counties, which are considered hotbeds of the disease.)
Phase Two would allow for bars and nightclubs to reopen at 50 percent of building capacity and — crucially for the angry, unmasked demonstrators doing protest squats on the Clearwater sidewalk — it would allow for gyms and fitness centers to reopen at 75 percent capacity. It's unclear when exactly Florida will move from the first to the second phase of the governor's plan. According to a FAQ sheet released by the governor's office, the state will only move to Phase Two "once the governor determines it is suitable to continue reopening and after fully considering medical data in consultation with state health officials."
"We're being deliberate, we're being methodical about this because we want to make sure we're doing it the right way," DeSantis said on Friday. "Just because you go to Phase One does not mean the disease is going away. It's not going to just go away magically."
DeSantis has faced heavy criticism for his failure to crack down quickly enough on the spread of the coronavirus in his state. In March, the governor refused to close Florida's beaches, even as videos of spring breakers crowding together on the state's coasts went viral. (Dozens of revelers at one Miami Beach party later tested positive for COVID-19, according to the New York Times.) Various counties around the state eventually closed their beaches themselves.
According to the Miami Herald, as of Monday, Florida has nearly 41,000 confirmed cases of COVID-19, and the statewide death toll is 1,735. Still, the protesters in Clearwater — who are not wearing masks or obeying social-distancing guidelines — would like to get back to the gym as soon as possible, transmission risk be damned, apparently. And if that means they have to completely undermine the premise of their own demands by doing a full and effective workout on the disgusting sidewalk outside the courthouse … then by God, that's what they'll do.