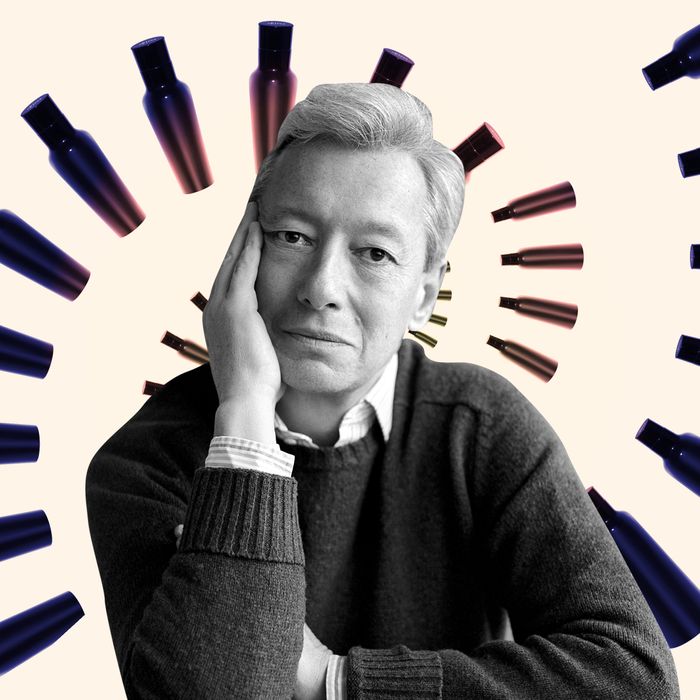 Frédéric Malle
Photo: Brigitte Lacombe
Scientific studies confirm that, of all the senses, smell offers the best recall. In Scent Memories, the Cut asks people about the scents they associate with different times in their lives.
Next up is Frédéric Malle, founder of perfume publishing house Editions de Parfums Frédéric Malle. It's called a publishing house not because it produces books on fragrance, but because it releases scents created by other people — perfumers handpicked by Malle. The line recently launched a luxurious bath-foam version of its cult favorite Portrait of a Lady, allowing fans the ability to sit and soak in a foamy cloud of the beloved blend of rose, patchouli, and sandalwood. The Cut caught up with Malle to talk citrusy flowers, risotto, and the perfect scent that bottles whatever feeling you're currently feeling.
My first scent memory is: The smell of my parents, but in terms of perfume, wearing Baby Dior as a child. My mother used to work at Dior, and she made this perfume for toddlers called Baby Dior, and that was mostly done for my brother and I; we are one year apart. It was more bergamot than orange blossom, from what I can recall, but I haven't smelled it in years.
Happiness smells like: A bright scent, like a citrus or mint. The first perfume that comes to my mind is Geranium Pour Monsieur, which is a perfume that we make. It has a bright, minty geranium scent and this sparkling quality to it. But it could also be something like Eau de Magnolia, which is a flower that smells like citrus. I think happiness has many facets, but they're all bright, as far as I'm concerned, and there are many, many ways of making a bright perfume.
Love smells like: The person you fall in love with, and you can fall in love with so many different people. Love can be deep and sensuous, like Musc Ravageur, and that would be a very calm love. It can be more contemplative and addictive, like Dans Tes Bras. It can be that happiness idea of having a sparkling perfume. I remember being in love and wearing Vetiver Pour Monsieur. I fell in love with a girl when I was 20, and she was wearing Paris, by Yves Saint Laurent, before I even made perfume, and so on. I associate love with sensuality, but there is more to it than that, so it's impossible to give a standard answer!
Friendship smells like: Friendship has a quietness to it, which I like. I'm too old to have stormy friendships anymore, or as many as I used to. When I was a kid, I used to think friendship was all about intensity, and I suppose that sort of becomes love, if you get into it. All of my masculine friendships can be represented in the eclectic collection of men's perfumes that we have, from French Lover, which is friendly enough, to Bigarade. I suppose Monsieur is slightly more distant because it has a sort of a somber, more self-centered magnificence to it, and it's not someone you can approach so easily. As for women, I work mostly with women, strangely enough. I never understood why. I suppose it's because they're more intelligent, but I'm friends with many of them, and they all smell different. But there's this calm, never stormy, sense to it, like Carnal Flower.
Heartbreak or loss smells like: Heartbreak implies that your heart has been taken, so it's more of a femme fatale sort of thing. So it'd go from Musc Ravageur, who doesn't want to touch you anymore, to a very magnificent Carnal Flower, who doesn't look at you anymore, to a ravishing Portrait of a Lady, who looks at other people. For me, heartbreak smells like love that doesn't want to talk to you anymore — love that has become silent, mute, or distant.
The worst smell is: The smell of vulgarity. I won't name any names. I'm being polite [laughs]. There's a lot around. The smell of duty free.
The most comforting smell: I'd say it's between Dans Tes Bras, which is a scent, or having a bath in that new Portrait of a Lady bath gel that we have, which is quite nice.
My ideal vacation smells like: Oh god, getting out of here … as nice as a house can be. It smells like this sort of rich white flower that you have in the south of France or in places like Tahiti. That smell is not only in the air because of the flowers themselves, but you also have it on the people on the beaches because their sunscreen is made with that as well. To me, it's always one of the sexiest smells, and all I want is to be able to walk on the beach with the sun, not thinking about anything. Or reading my book on a beach and having the smells coming to me instead. I just want to go out … [laughs].
My home smells like: Cafe Society Perfume Gun, which is this amber-y, warm, soothing scent, which we worked on with Carlos [Benaïm] about ten to 12 years ago. It's a strange thing because it's something that I made and worked on thinking of my family's house when I was a child, and it's this sort of fond memory, but my parents used a product from Guerlain that was discontinued a long, long time ago, and from memory I sort of pushed Carlos to do something like it. What I don't know is how close it is to my memory, but I think memories are often more beautiful than reality, and this is certainly one of those.
My favorite food smells like: A very well-made risotto. Also, everything made by Joël Robuchon.
A pleasant surprise smells like: Rose. Rose is one of the most beautiful things, and it's still very diverse. Rose is to perfume what a muse is to paintings. It's a classical subject and very often very, very beautiful. It can be sexy, it can be fresh, it can be sparkling — it can have so many different facets, just like a good surprise.
I smell like: Currently, Vetiver Extraordinaire. But that's today. Usually, I am covered with perfume trials, with four different versions of the same thing strategically placed on my forearms so I can compare them. But UPS has not delivered yet today, so right now I am just wearing my usual perfume.