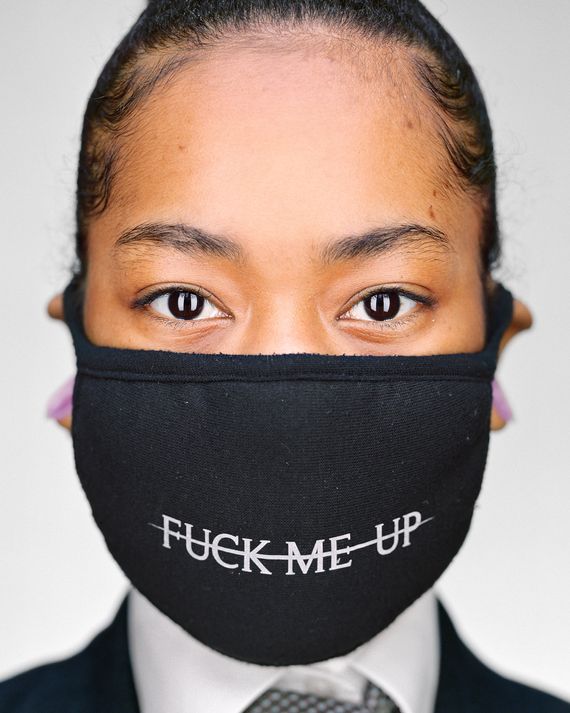 (Above): Tiffany Collins, security guard, lives in Staten Island.
What's it like in the building?
Eerie. Empty. You'd think it would feel slow, but time only goes slow if you can't keep busy.
How do you keep busy?
I have a computer at work, and I'm trying to build an online store for my handmade body harnesses. I'm a pole dancer, so I make things that appeal to that crowd.
How long have you been dancing?
Five years. When I'm at work as a security guard, I'm Tiffany. When I'm dancing, I'm Jewel. I can't really dance right now, though. Some girls have been on Instagram. But the piece I need to set up my home pole is going to take weeks to get here, now that shipping is all messed up.
Have many of your co-workers been sick?
People tend to be quiet if they've had it. It has a stigma. If you've had it, and the person you're working with knows that, they'll say they want to work with someone else. I was sick. I think I had it. But I never came in sick. It's the same as drinking and driving in my book.
Who are you quarantining with?
My mom and sisters. Anxiety in the house is through the roof. They're used to getting their hair done, their nails done, and now that they can't, it's just … I'm the one who's relaxed.
Where'd you get that mask?
I have diabetes so I knew I needed something serious. And early on, I knew just where to get it: this 24-hour hardware store on 29th Street. It has everything — beach toys, hydraulic butterfly valves. It's called — well, it has a funny name. The Nuthouse.
What job are you working on?
The Moynihan train-hall renovation. They set up soap and paper towels. They hired cleaners for the construction shanties. I do hope those practices stay.
*A version of this article appears in the May 11, 2020, issue of New York Magazine. Subscribe Now!