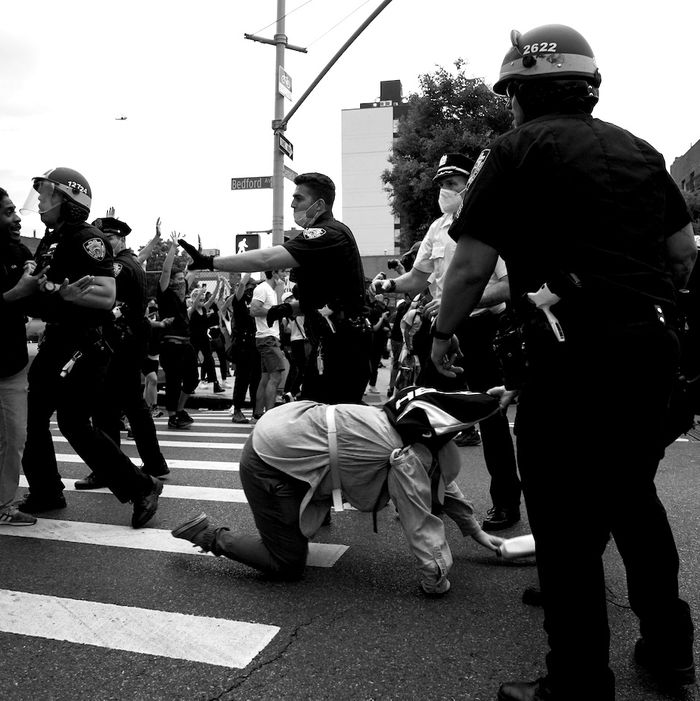 Police arrested hundreds of protesters in New York City over the weekend.
Photo: BRYAN R. SMITH/AFP via Getty Images
The weekend after George Floyd's death at the hands of Minneapolis police officers saw widespread protests across the country. Crowds gathered to demand justice for Floyd, for Breonna Taylor, for Ahmaud Arbery, and all other victims of police brutality and racially biased law enforcement. According to social-media posts from protesters, many demonstrations began peacefully, but escalated violently as police began to utilize zip ties, rubber bullets, and pepper spray. Governors in multiple states have activated their National Guards, and faced with a militarized police presence, some demonstrators responded in kind: Squad cars burned, and in some cases, protesters threw firecrackers at officers during aggressive confrontations with crowds. The Associated Press reports that, nationwide, thousands of people have been arrested since Thursday night.
Here's a look at how some of the bigger protests unfolded over the weekend.
Minneapolis
Protests began in Minneapolis last week, with police reportedly deploying rubber bullets; "foam marking bullets," which physically tag people police suspect of violent behavior for later investigation; and tear gas. On Thursday night, protesters set fire to the third precinct police station, after Mayor Jacob Frey ordered officers to abandon it.
The Twin Cities saw another round of protests over the weekend, and a curfew went into effect at 8 p.m. on Saturday. Not long after, National Guard and Minneapolis police officers were sweeping the streets: One video, posted to Twitter, shows large groups of armed officers following an armored car down a residential street, screaming "light 'em up" and shouting at people to "get inside." In the video, they can be seen firing paint canisters at the woman who filmed the video from her porch.
Before nightfall, Governor Tim Walz warned civilians, "If you are on the street tonight, it is very clear: You are not with us. You do not share our values. And we will use the full strength of goodness and righteousness to make sure that this ends." Law enforcement officers dispersed protesters who stayed out in defiance of the curfew, firing rubber bullets, paint rounds, and tear gas on them, according to accounts from protesters.
Freelance journalist and photographer Linda Tirado says she was permanently blinded, apparently after a rubber bullet hit her in the eye. Multiple journalists were reportedly arrested or assaulted by aggressive officers in riot gear, after identifying themselves as members of the media who are not subject to the curfew.
New York City
On Friday, protesters gathered at the Barclays Center in Brooklyn, where NYPD officers armed for conflict used aggressive physical force against demonstrators and sprayed them with pepper spray. WNYC's Gwynne Hogan reported that Assemblywoman Diana Richardson was pepper-sprayed while peacefully protesting, while footage from other people who attended the demonstration shows officers beating civilians with batons and throwing them to the ground (and, in at least one case, calling the victim a "stupid fucking bitch").
Eventually, the police made so many arrests that they took over an MTA bus to transport protesters. The driver stepped off, refusing to drive it.
Other footage shows an NYPD officer confronting a young black man as he stands with his hands up. The officer "pulls down his mask and pepper-sprays him," according to one Twitter user.
Protests took place across the five boroughs, with at least 345 arrests made by Sunday morning, and 47 police cars having been burned. In Park Slope on Saturday, officers drove an NYPD SUV into a crowd of people carrying a barricade.
Dallas
Protesters in Dallas on Friday and Saturday were met with police armed with pepper spray. The situation escalated: Footage from Saturday night shows police deploying tear gas to disperse demonstrators. Some protesters damaged police cars and stores.
Another image has circulated of a woman crying, her face streaked with blood. According to Dallas Morning News journalist Kevin Krause, she said she was walking home from the grocery store on Saturday when "an officer fired some sort of pellet in her face." She said she was not participating in the protests.
Denver
On Saturday, the third day of protests in Denver, police officers in riot gear met crowds at the Capitol building with tear gas, flash-bang devices, pepper pellets, and sponge bullets, according to the Denver Post. Demonstrations began peacefully, but after Mayor Michael Hancock announced a curfew, and the mobilization of the National Guard, tension boiled over. Law enforcement dressed in riot gear reportedly fired tear gas on crowds, prompting demonstrators to throw canisters, fireworks, and rocks back at the police, according to the Post.
Police reportedly blocked protests and, as night fell, began sweeping streets with SWAT vehicles. Footage from one person shows an officer spraying a substance directly into his car while he filmed. Other footage shows police firing what appears to be pepper balls or rubber bullets on crowds of people, many of whom had their hands up, chanting "don't shoot."
Atlanta
Peaceful protests began in Atlanta on Friday, but eventually, police and protesters clashed outside the CNN Center, where law enforcement used pepper spray on the crowds on Friday night. Georgia governor Brian Kemp declared a state of emergency and activated the National Guard on Saturday, when a 9 p.m. curfew went into effect in Atlanta. (It will now remain in effect through Sunday night.) Footage from CNN shows police outfitted in riot gear surrounding a car after nightfall, and pulling two young black passengers out of the car using what looks like Mace and tasers. According to the Atlanta Journal-Constitution, 157 people were arrested yesterday.
Louisville
Protests in Louisville, where Breonna Taylor was killed, began Thursday night. Although they were calm to start, they reportedly escalated in much the same way as the others: tear gas and pepper balls, fired by officers in riot gear.
"We were on Congress Street near [the] courthouse," one attendee tweeted Saturday. "Not a single protester was out of line. No violence, just civil disobedience, no one crossed the line. Yet still the tear gas."
On Friday, a local news station captured live footage of a deep line of police officers shooting pepper balls at a reporter while she was on the air.
And on Saturday, a clip went viral in which plainclothes Louisville police officers can be seen destroying and confiscating protesters' stores of water and milk, which is used to help calm the effects of pepper spray. Mayor Greg Fischer subsequently claimed, "Interspersed with that water and milk, there were other materials. There were mason jars full of flammable material, other materials that could not be identified that could have been used to be harmful to other protesters, also have been used to be harmful to law enforcement." Protesters refuted Fischer's account.