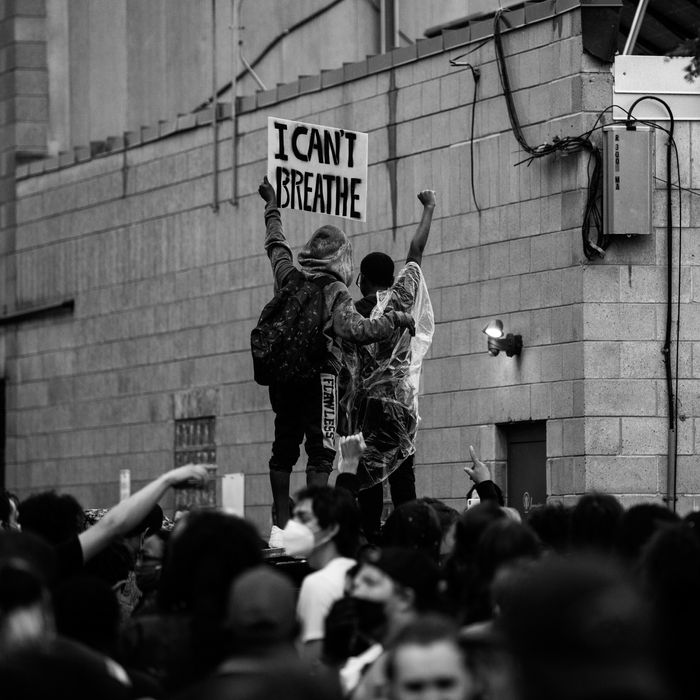 Photo: Stephen Maturen/Getty Images
On Tuesday night, hundreds of people congregated in the streets of Minneapolis in the protest of the death of George Floyd, a 46-year-old black man who died in custody after being violently arrested by Minneapolis Police Department officers. Footage of Floyd's arrest shows an officer kneeling on his neck for several minutes as he pleads that he can't breathe. The four officers involved were swiftly fired, and an FBI investigation has been opened, but no charges have been filed.
The protesters, many of them wearing face masks, gathered at the intersection where police had handcuffed Floyd and pinned him to to the ground the day before, reportedly on a tip that Floyd matched the description of someone who'd allegedly forged a check at a supermarket. The incident report claims that Floyd — who was found unarmed and sitting in his car before cops ordered him to step out — physically resisted arrest, but footage of the altercation shows a crowd of people and Floyd himself begging responding officers to stop using force against him. After several minutes, Floyd appears to become unresponsive. The demonstrators hoisted signs reading "I can't breathe" and "jail killer KKKops," and called for the officers involved to be prosecuted.
NBC reports that there was some light property damage amid the protest: damaged windows and police vehicles sprayed with paint. Police in riot gear responded with tear gas and rounds of "foam marking bullets," which police spokesperson John Elder told CNN leave a mark on people police suspect of instigating violence so they can investigate them later. The Star Tribune reported that police also used flash-bang devises and rubber bullets. Elder said someone was shot, but the injury was not life-threatening. It's not clear whether that shooting — which occurred in a building near to the site where Floyd was pinned to the ground — was related to the protest. City Council member Jeremiah Ellison tweeted that police were shooting rubber bullets "indiscriminately into the crowd," and that he witnessed a teenage girl among those injured.
Amid the coronavirus pandemic and subsequent nationwide lockdown over the past few months, overpolicing of minority communities for minuscule infractions like driving with improper license plates or jumping a subway turnstile has persisted despite the added risk of contagion when suspects come into contact with the criminal-justice system, both during arrest and incarceration. This was certainly the case with George Floyd, who was arrested and handled like a dangerous criminal at the least suspicion of involvement in a petty non-violent offense.
As many have pointed out on social media, law enforcement's violent response to protesters demanding justice for Floyd and his family was also disproportionate, far harsher than their counterparts' recent treatment of people protesting stay-at-home orders. During those protests, which involved plenty of crowding and rowdiness, police were observed exercising the utmost restraint. Law enforcement's patient response to the (mostly white, sometimes armed) protesters advocating their right to flout temporary restrictions designed to protect their communities shows that they are capable of non-violent crowd control should they so choose.