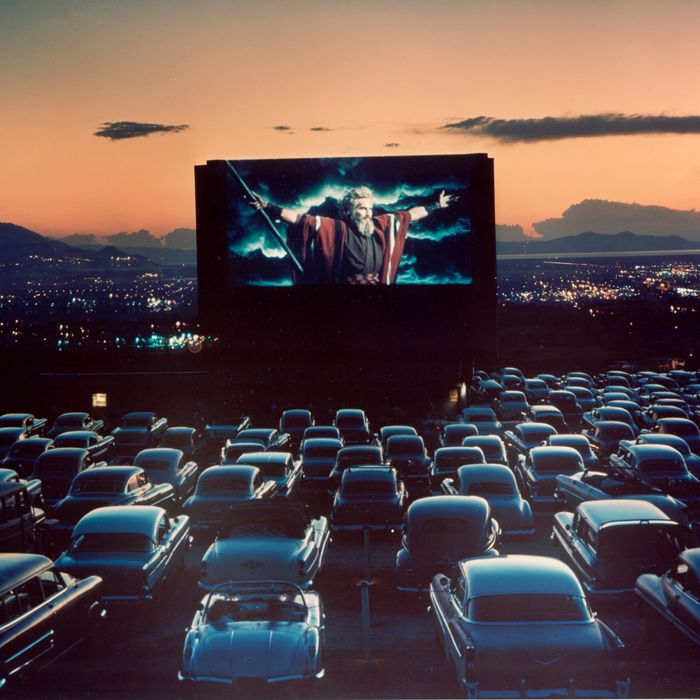 Photo: J. R. Eyerman/The LIFE Picture Collection via
With global retail spaces still mostly on lockdown and runway front rows firmly canceled, the fashion industry has needed to get creative. Catwalks and other fashion events have been livestreamed or thrown together at home, but so far there hasn't been much of an attempt to preserve the feeling of a local event, given social-distancing restrictions. But one designer is doing just that, innovating with a throwback: the drive-in movie theater.
On Monday, Pyer Moss designer and founder Kerby Jean-Raymond announced that he's planning a drive-in fashion event during New York Fashion Week this September (if that even still takes place). Some details are forthcoming, but what we do know is that the event will include the premiere of American, Also, a feature-length documentary that looks at the two years leading up to Moss's groundbreaking fashion show at King's Theatre in the Flatbush neighborhood of Brooklyn last September. In a trailer for the film posted to Jean-Raymond's Instagram this month, the designer says, "So many of us, when we get opportunities and huge platforms, the first thing we do is leave. Slowly, but surely, I've been finding my way back … now we're finally home."
According to Vogue, the premiere will be followed by a series of screenings in cities nationwide. To bolster the appearance of the event unfolding in a certain place at a certain time, the "fashion happening" will coincide with the drop of a new clothing line. A guest list to the drive-in will be furnished with press and friends of the brand (a portion of tickets will also be made available to the public). Following the event, the film "will be available for public consumption," according to a press release.
It's not yet clear where this fabulous event on wheels will be held, as there are no drive-in theaters in New York City aside from a retrofitted former diner in Queens. Event details and location will be publicized in early summer.