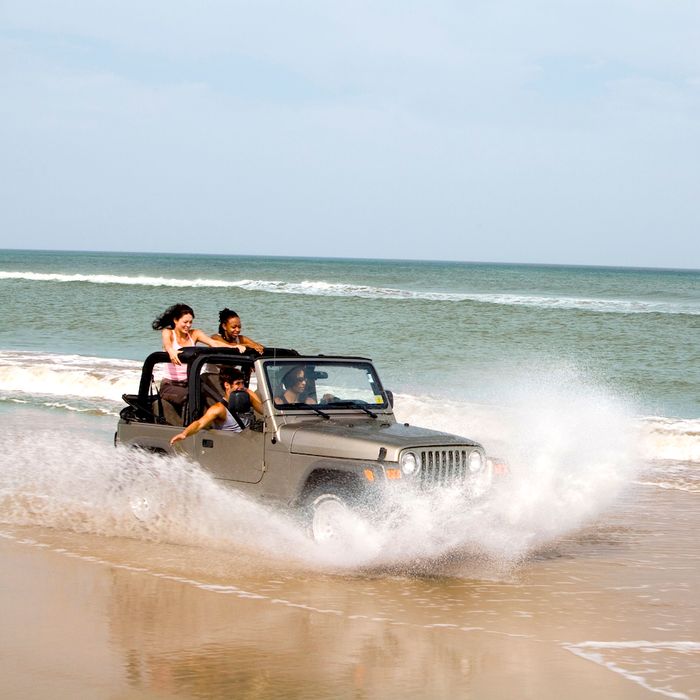 Perhaps now is not the best time for thousands of people to beach party. (Actual partygoers not pictured.)
Photo: Stephen Mallon/Getty Images
Over the weekend, the siren song of four-wheelers drew swarms of "Jeep enthusiasts" to the beaches of Galveston, Texas, which — as of May 1 — are indeed open. Starting May 16, the party-loving masses descended upon Bolivar Peninsula's Crystal Beach for "Go Topless Jeep Weekend," parking their 4x4 sport utility vehicles on the sand and throwing caution to the gulf breezes. Although disease experts warn against prematurely abandoning social distancing practices during the ongoing pandemic, thousands of people reportedly turned up for the event. It appears to have ended in utter chaos: According to NBC, two people were shot, while nearly 200 others were arrested. The charges? "Various."
Galveston County Sheriff Henry Trochesset told the Associated Press that the shooting occurred on Saturday, after "a group of men started fighting, and it transferred over to females fighting." That's reportedly when "a husky male discharged a firearm" into the fracas and injured two of the men, who were subsequently airlifted to the University of Texas Medical Branch at Galveston. Their condition remains unknown, and the suspect remains at large.
The over-180 arrests, meanwhile, had to do with "assault, driving without wearing a seat belt, DWI, and public intoxication," per NBC. But even before the event began, local authorities knew it might get dicey, not least because enforcing social distancing among such overwhelming crowds is a Sisyphean task.
Ahead of "Go Topless Jeep Weekend," Trochesset told the Houston Chronicle that, although 80 extra staffers would be working overtime, if turnout rivaled 2019 — when police arrested more than 100 people — there would be "almost no way to deal with any six-foot rule. It's almost impossible to enforce." Particularly when you're dealing with such motivated and committed Jeep enthusiasts as those who attended the big bash.
"I've been in quarantine, I need to get out and party," one told 12 News Now in a segment that has since gone viral, her statement punctuated with a real Party Wolf howl. "Wash them hands for 20 seconds, and keep them clean with the Germ-X, totally."
Totally…?