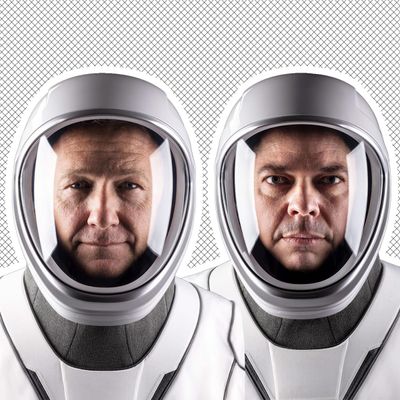 Bob Behnken and Doug Hurley.
Photo: Nasa
Over the past 20 years, astronauts Bob Behnken and Doug Hurley's lives have followed a strikingly similar trajectory. In 2000, the men — both former military colonels — were accepted to the NASA astronaut class of 2000 on their first try. Since then, they've both been to space twice. They met their wives through NASA and fathered young boys. They've also become best friends.
Tomorrow, the two astronauts will unlock an objectively cool new level in their relationship: Per the Washington Post, which recently profiled Behnken and Hurley, the buds will board SpaceX's Dragon spacecraft, where they'll spend the next one to four months on a history-making journey to the International Space Station. Together, they'll be the first American astronauts to launch into space from American soil in nearly a decade.
As far as I can tell, they'll also be the first best friends to take a boys' trip to space together, which I think is just as worthy a celebration. According to the Post, NASA has been known to "pit" astronauts against each other, seemingly in an attempt to fuel competition. But despite the cutthroat atmosphere, Behnken and Hurley have formed a strong, beautiful, brotherly relationship.
This close friendship will certainly serve them well on their upcoming trip. By all accounts, their space mission is risky: While an unmanned Dragon spacecraft completed a flawless trip to the ISS last year, months later, on another mission, that same spacecraft exploded. And while I'm sure they'll encounter some interpersonal obstacles (per Behnken, Hurley has the "tighter sense of hygiene" — classic fodder for bickering), I imagine their friendship will help keep spirits high.
"I think there's a lot of people that wish they could [fly with their best friend], and we're lucky enough to do it," Hurley said in a NASA promotional video. "We spent a ton of time together … We could have gotten to the point where we didn't want to be around each other, or we're closer. So I think just the whole experience for me is what we're looking for." In the same video, Hurley disclosed what the pair is most looking forward to: "celebratory" vomiting at the end of their journey.
I would like to extend my greatest wishes for the buds, whose journey I look forward to following in real time as well as in the inevitable film adaptation. Elon Musk and Tom Cruise are available.