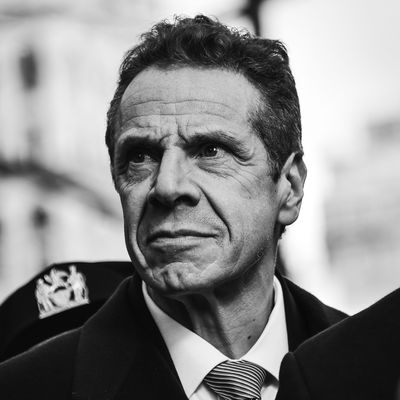 Photo: Steven Ferdman/Getty Images
On Thursday, New York governor Andrew Cuomo's secretary announced that certain pregnant women would be released from state prisons to help stop the spread of COVID-19. While this sounds like progress, there's a catch: Only women convicted of nonviolent crimes who have less than six months on their sentences will be freed. The criteria is too stringent to have any meaningful impact, since most pregnant women are locked up when they are already expecting, and the average prison sentence is much longer than six months.
"This is a token that will not impact anybody," said Dr. Carolyn Sufrin, an obstetrician-gynecologist who teaches at Johns Hopkins University. "It seems like an empty order that will actually have no practical effect."
The announcement from the governor's office followed multiple unfortunate events this week: On Thursday, an incarcerated woman in a New York state prison died of COVID-19. Days before, on Tuesday, a 30-year-old mother who was being held in a Texas prison also died from COVID-19, after she gave birth on a ventilator one month earlier.
A spokesperson for New York's Department of Corrections and Community Supervision said he expects "several individuals" will be released under the new order for pregnant women.
Prisons and jails are hotbeds for coronavirus outbreaks, since social distancing is impossible and people don't have access to hand sanitizer, masks or proper medical care. The virus has already killed more than 200 incarcerated people, yet most governors around the U.S. have not ordered the mass releases necessary to prevent further deaths.
Along with eldery people and those with underlying health conditions, pregnant women are obvious candidates to go home. Roughly 9,500 expecting mothers are held in America's prisons and jails, a fact that is shocking under normal circumstances and unconscionable during a pandemic that has already killed more than 60,000 U.S. citizens. At the best of times, incarcerated pregnant women are not given the health care and nutrition they need, and some are still shackled during labor or forced to deliver their babies without doctors or nurses.
During a coronavirus outbreak, they are even more vulnerable. Since pregnant women often have multiple health issues, contracting the disease could lead to serious illnesses and, in some cases, death, said Sufrin. The consequences could be particularly devastating for black women, who are twice as likely to be locked up than white women and to die from pregnancy complications.
As COVID-19 kills more people in New York's prisons and jails, Governor Cuomo has "blood on his hands," said Rachel Foran, an organizer for Survived & Punished, which advocates for incarcerated domestic- and sexual-violence survivors. Instead of using his clemency power to drastically reduce the number of people behind bars, he has only released some parole violators and people over 55 who have less than three months left to serve on nonviolent convictions.
When it comes to expecting mothers, Cuomo doesn't deserve to be celebrated for an order that doesn't even include women who are behind bars for defending themselves against abusive partners, said Laura Whitehorn, the co-founder of the New York–based organization Release Aging People in Prison.
"You and your unborn child are supposed to risk death by this virus because you didn't fit into these very stringent and unreasonable categories?" she said. "I think he wants it to look compassionate, but actually it's very cruel."