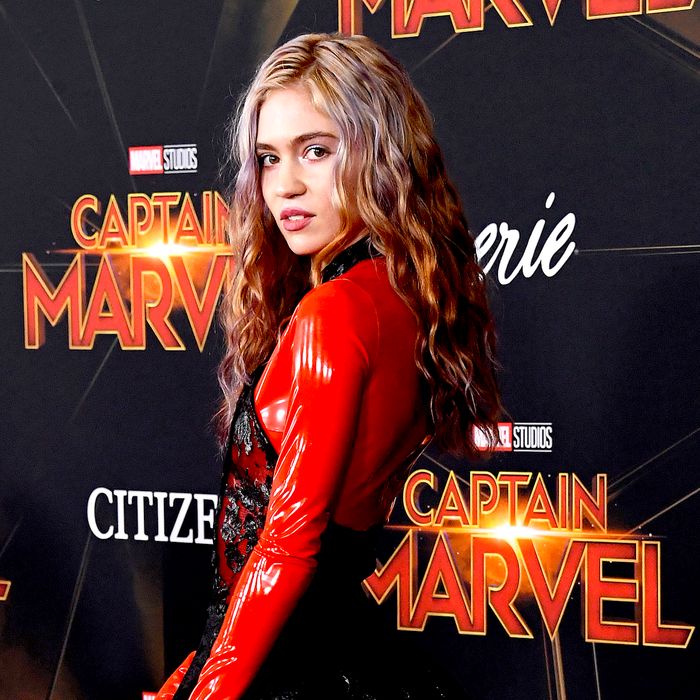 Your move, soul collectors.
Photo: Frazer Harrison/Getty Images
According to lore, the sale of a soul generally leaves the vendor with a (to them) priceless acquisition: the taste of butter and a pretty dress, for example, or everlasting youth, or peerless talents. I suppose a person could also swap their soul for an impressive fortune, but if you already have that, what would be the point? Simply making a statement, only oops, now the devil owns you? Hm. Maybe this is a good question for Grimes, who is reportedly selling part of her soul to the highest bidder, sort of.
Bloomberg reports that — although she is best known for her music, and lately, her arresting taste in baby names — Grimes sees herself "as a visual artist first and foremost," having "made art 10, 12 years before [she] ever touched a keyboard." Some of her works are on virtual display via Gallery Platform Los Angeles (from May 28 through June 3) and Maccarone Los Angeles (from May 28 through Aug. 31). Grimes's exhibit, entitled "Selling Out," includes prints, drawings, photographs, and at least one deed of sale for her soul. Or, a percentage of her soul. Anyway, the piece itself would appear to be an actual legal contract.
"I didn't want anyone to buy it," Grimes said, explaining how she went about pricing her soul. "So I said we should just make it $10 million and then it probably won't sell." She got her lawyer involved, and "the deeper we got with it, the more philosophically interesting it became," she continued.
"Also," she added, "I really wanted to collaborate with my lawyer on art. The idea of fantastical art in the form of legal documents just seems very intriguing to me."
Ultimately, Grimes concluded that listing one's soul for such a staggering sum could read as tone-deaf amid the devastating, pandemic-fueled recession. So what price did she and her lawyer finally settle on? "Best offer." Your move, soul collectors.