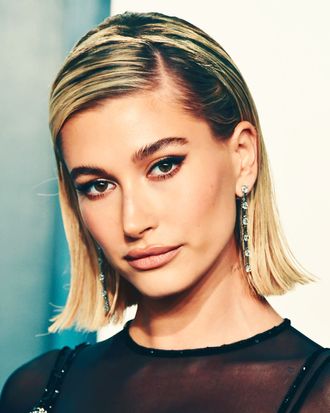 Hailey Bieber.
Photo: Frazer Harrison/Getty Images
You can really gain fascinating insight into a celebrity's mind based on how they respond to each passing feud and tabloid headline. For example, Hailey Bieber is seemingly unfazed by her husband's proclivity for talking very publicly about their rollicking marital sex life. But when a stranger speculates that she's had plastic surgery? That she cannot tolerate. Just last week, the 23-year-old model slammed an Instagram account that insinuated she has had some work done. And now she's threatening to sue a Beverly Hills plastic surgeon who suggested the same.
Over the weekend, plastic surgeon and prolific TikTok-er Daniel Barrett posted two photos of Bieber taken years apart. Referencing her claims that she hasn't had any plastic surgery, Barrett says in the video, "I think it's physically impossible, without getting a little bit of help from someone like myself, to go from this picture to that picture." He speculates that Bieber has likely had a nose job, a skin-tightening procedure, jawline contouring, and genioplasty, as well as some filler in her cheeks and lips.
Well, Hailey and Justin decided they could no longer ignore the rumors. According to E! News, the couple's attorneys sent Dr. Barrett a cease-and-desist letter accusing him of using Hailey to "commercially advertise [his] plastic surgery practice and to spread false, uncorroborated claims that Mrs. Bieber has undergone plastic surgery." The letter, which E! News obtained, then cites what the Biebers' lawyers characterize as a slew of "flagrant and conscious infringements" on their rights, including defamation, slander, and false light. The letter also accuses Dr. Barrett of copyright infringement because he captioned the video with lyrics from Justin's hit song "Sorry."
The couple is demanding that Dr. Barrett issue a public statement retracting his claims, as well as take down the post. If not, the Biebers' lawyers claim, the surgeon will be subject to "statutory damages for each willful infringement."
But Dr. Barrett isn't backing down. In a statement to E! News, he said, "The purpose of my TikTok account is to increase the transparency of plastic surgery and to educate people about plastic surgery. The purpose of the video was not to disparage Hailey Bieber in any way. The purpose of my video was to share my opinion about the procedures that I believed she may have had done based on photos alone." The Biebers have yet to issue a response.
My main takeaway from this whole mess? I don't think I'd want someone who uses the "chipmunk" voice filter on TikTok getting close to my face with anything sharp.